We have just finished developing the web design and development for new estate agent in Rugby Move Happily Ever After. This is a new venture from award winning estate agent Deborah Jane Gray who has a deserved reputation for excellent customer service and communication for buyers and sellers of property.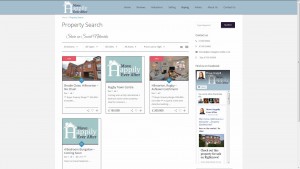 Web design using WordPress
The website was built using the popular Content Management System, WordPress combined with a customised commercial theme. The website provides Google maps based property search as well as fast loading property listings and search. The website also includes several email forms so people can enquire or register for further information.
WordPress is an excellent choice for start-ups and small businesses. The system is user-friendly making it easy for company personnel to manage content. This open source (i.e. free) web software  has a large and active community of commercial and volunteer developers who have built up a range of useful plugins that allow us to tailor the functionality to the needs of a business. This includes e-commerce so you can sell products online, galleries and portfolios to display images efficiently, web directories, membership and private content etc. The system also helps you optimise your website for search engines (SEO – search engine optimisation) using caching better website speed, keyword structures, sitemaps and linking.
Call Dinesh on 07941 686113 to discuss web design, SEO and development using WordPress.