Recently we have had some issues with established client websites that have out of date Sitelinks in the Search Engine Results Pages (SERPS). This blog post covers what sitelinks are and how to fix outdated sitelinks.
When Google presents a particular search result link it may also choose to include additional links from your website that its system has decided may be useful to the user. This could be additional pages from your website that are relevant to the user or a list of the most important pages from the the website that again are automatically generated by Google's algorithm.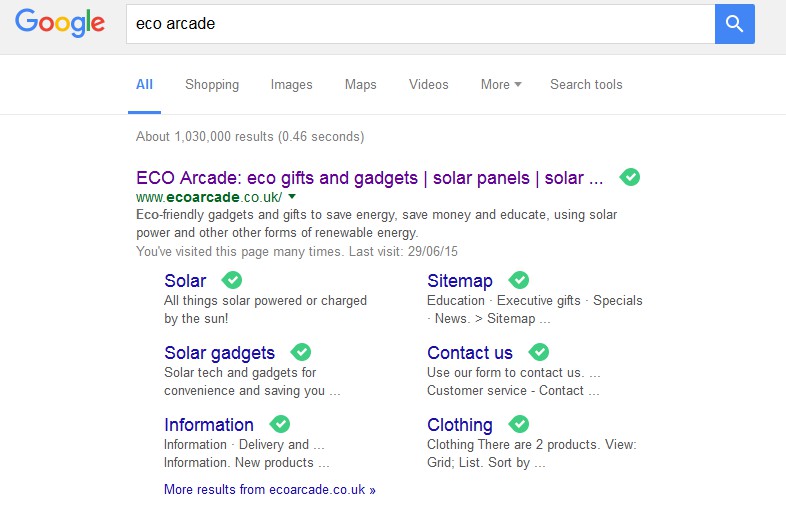 Google will only show sitelinks for results that they think will be useful to the user. If the structure of your site doesn't allow their algorithms to find good sitelinks, or they don't think that the sitelinks for your site are relevant for the user's query, they won't show them.
At the moment, sitelinks are automated. Google are always working to improve our sitelinks algorithms, and they may incorporate webmaster input in the future. There are best practices you can follow, however, to improve the quality of your sitelinks. For example, for your site's internal links, make sure you use anchor text and alt text that's informative, compact, and avoids repetition.
You may have a situation where the Sitelinks for common searches for your website show out of date pages or there are pages on your website that you would be prefer to be displayed on SERPS. If you think that a sitelink URL is inappropriate or incorrect, you can demote it. Demoting a URL for a sitelink tells Google that you don't consider this URL a good sitelink candidate for a specific page on your site. Google doesn't guarantee that demoted URLs will never appear as a sitelink, but they do consider a demotion a strong hint that they'll try to honour when generating sitelinks.
How to fix outdated sitelinks
Firstly, you will need to have a valid site property on your website on the the Google Search Console
On the Search Console Home page, click the site you want.
Under Search Appearance, click Sitelinks.
In the For this search result box, complete the URL for which you don't want a specific sitelink URL to appear. (How to find the right URL.)
In the Demote this sitelink URL box, complete the URL of the sitelink you want to demote.
Once you've demoted or undemoted a sitelink, it can take some time for search results to reflect your changes. You can check on progress through the Google Search Console.
Longer term you should ensure the main tags and content for all pages is properly constructed for search engines i.e. Title tags, Descriptions, Page URL etc.
Get in touch with Dinesh on 07941 686113 or enquire using our Contact form if you have any further questions about SEO, web design or web hosting.
See this link for more information: Sitelinks