Recently there has been a flurry of rumours about what Facebook will or won't do regarding charging for privacy, taking over the copyright of your photos or adding a dislike button. These rumours aren't true and posting a cut and paste message in your status just wastes your time, your friends' time and lessens the experience of social media. The Dislike button rumours may have some basis for truth but there is a scam emerging aimed at entrapping early adopters.
You will NOT be charged £5.99 to keep your Facebook posts private
People have been caught out pasting this message into their status:
I havent had time to check it out and won't get around to it until tomorrow but I guess this need investigating

Now it's official! It has been published in the media. Facebook has just released the entry price: £5.99 to keep the subscription of your status to be set to "private". If you paste this message on your page, it will be offered free (I said paste not share) if not tomorrow, all your posts can become public. Even the messages that have been deleted or the photos not allowed. After all, it does not cost anything for a simple copy and paste
For future reference, legal or official sounding statements posted in statuses have no sound legal basis. You can wade through the privacy settings and change defaults but Facebook's whole business model is based on huge volumes of users who use the site on the understanding that it will while it continues to be free and not too intrusive in terms of privacy.
A new 'Dislike' button scam
There have also been hints that Facebook may be working on a Dislike button. The answer is maybe or at least something more than the plain old 'Like' button which may be inappropriate for a status reporting a tragic event. However there has been a spate of Facebook links emerging like this: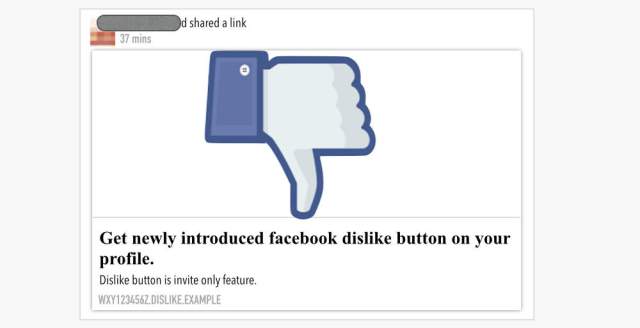 Unlike the privacy charging, this is likely to be a genuine scam which links through to a strangely formatted URL.
If you click through, the scam unfolds like many "you know you want this" tricks. To go forward, you must first recommend – in fact, you must actively promote – the link you just clicked on.
There are two steps: Share it with your friends, and Send it to five of the Groups that you belong to, before you find out what on earth it is that you're sharing or sending.The crooks will redirect you to one or more revenue-generating sites – in fact, this eventually happens even if you don't Share and Send the original link as stated. In tests, you would end up on two bait-and-switch scam sites, neither of which had anything to do with Facebook, or a Dislike button, and both of which wanted us to sign up by giving away personal information.
See these articles for more information: