Copycat websites are still defrauding people attempting to buy essential Government services. They appear official but often charge an extra fee for services offered by Government departments or local authorities such as the following:
Passports
European Health Insurance Card (EHIC)
Driving licence renewal
ESTA (Electronic System for Travel Authorisation) – US travel visa
Driving theory tests
Unlike some fraudsters, the scams don't often result in major losses but they often dupe people into unnecessary payments for services that are free or much cheaper from the official service.
The problem arises because it's relatively easy to buy a credible looking domain, setup a professional looking website (that sometimes looks better than the official site) and then optimise that website so it appears in search engine results pages. As professional web developers we know exactly what is involved!
Examples of copycat websites
For a recent trip to the US, I had to apply for an ESTA before travel. Without this I wouldn't have been allowed into the country or onto the plane in the first place.
A quick Google UK search for 'ESTA' reveals the official website https://esta.cbp.dhs.gov/esta/ at position one.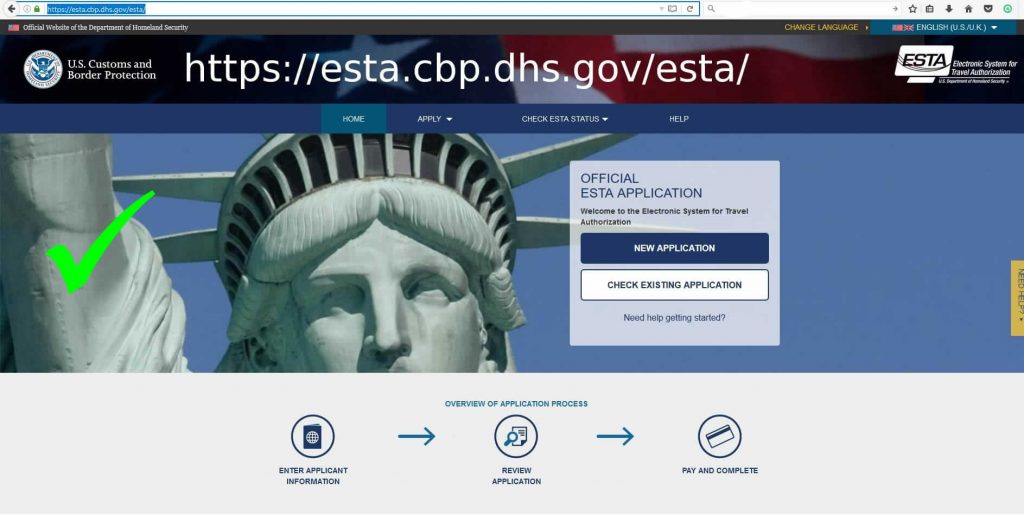 However second on the search engine results list is this website:
This is a UK based website that charges £32 on top of the standard $14 charged by the official website. This is skating very close to wind in terms of trading standards and they can just about get away with it as you still get your ESTA (we assume) but having spent £32 for them to do it for you. The form filling process is the same for both sites so they aren't really saving you time or making the process easier.
Like a lot of copycat websites it looks credible and the loss is not life changing but it's still a fraudulent service.
To be fair to them, they do link to the official website but people in a hurry could easily get caught out.
So how do you spot copycat websites? We give some tips below.
How to spot copycat websites
Here are some tips for spotting copycat websites:
Read the homepage before you do anything. If the site says that it's not officially affiliated with the Government or another official body, then you'll know it's a copycat.
Check the web address – all official Government services should have 'gov.uk' in the web address. You shouldn't be fooled by a .org web address either as this doesn't automatically mean that the site is official as anyone can buy a '.org' domain name. The purchase of gov.uk and ac.uk are subject to strict eligibility rules and not offered bby most domain sellers – How do I register a .gov or .ac.uk domain name?
Don't automatically click on the first website that shows up in a search engine, double check that you're going through the official site. If in doubt, go directly to official Government website at gov.uk for British Government websites
If you decide to use an unofficial site because it offers an extra service, make sure that the payment page is secure. To do this check the web address: it should begin with 'https://' and have a locked padlock in the browser window.
To get a refund from a copycat website, contact the company immediately and explain that you didn't realise that you could get the service for free or cheaper by going direct.
If you don't get a refund straightway, persist with the company or report the case to the Office of Fair Trading or Trading Standards by calling the Citizens Advice consumer service on 0345 404 0506.
Official websites for Government services
Passports: To apply for or renew your passport (HM Passport Office): https://www.gov.uk/browse/abroad/passports
Driving Licences: To apply for or renew your driving licence (DVLA): https://www.gov.uk/browse/driving/driving-licences
Driving test: To book or cancel a driving test (Driving Standards Agency): https://www.gov.uk/browse/driving/learning-to-drive
European Health Insurance Card: to apply for or renew your EHIC http://www.nhs.uk/NHSEngland/Healthcareabroad/EHIC/Pages/about-the-ehic.aspx
Tax return: For Self-Assessment tax returns (HM Revenue & Customs): https://www.gov.uk/file-your-self-assessment-tax-return
Congestion Charge: To pay the London congestion charge (Transport for London): http://www.tfl.gov.uk/roadusers/congestioncharging/
Trademarks: Renew your trademark (Intellectual Property Office): http://www.ipo.gov.uk/types/tm/t-manage/t-changetm/t-renew.htm
Land Registry: To order title plans and title registers (Land Registry): http://www.landregistry.gov.uk/home
ESTA – travel authorisation for the US – https://esta.cbp.dhs.gov/esta/
There are no hard and fast rules. Just be aware of the problem and check the website you are using. If you have any doubts, try going through the official Government portals.
Chancellor, Philip Hammond announced a £2bn investment in fighting cybercrime to prevent internet hackers assaulting UK's Internet infrastructure. Some of this money could also be spent on cracking down on copycat websites.
Further reading