Your search engine rankings will often change from one day to the next. This is natural.
One day you're top of the pile and then the next, you have fallen behind your competitors.
The first thing to do is not panic, the second thing to do is check your data. One or two days of fluctuating rankings doesn't mean much unless it really is a sustained dramatic fall, but more on that later.
Here are the sources of data you need to check to get an accurate picture:
Manual searches on Google and Bing to check your rankings
Google Analytics to check your actual web traffic
Google Search Console account
Checking your website for technical issues
Google algorithm updates
Actions of your competitors
Ranking tracking using SEO software
Doing manual checks
You can do your own manual checks on your rankings however remember to use the private browser mode that does not remember your settings.
Google encourages people to stay signed in so they can harvest data, but also to provide them with more tailored search results that reflect user location and past search history. Therefore you need to choose the following window types:
Edge – InPrivate window
FireFox – Private Window
Google Chrome – incognito window
These versions of your browser do not store cookies or your past search history. Therefore they will give you a reasonably accurate version of what other people are seeing when they use a search engine.
Google Analytics
Your web traffic will fluctuate as well as your rankings. Use Google Analytics to check whether a fall in search engine ranking is causing a fall in web traffic.
Google Search Console
All serious website owners need to have a free Google Search Console Account. This provides data or information about how your website is performing on Google Search. It's also how Google contacts website owners to alert them about issues relating to so called manual actions where Google has detected an attempt to manipulate the search engine rankings artificially.
If you have a manual action then, in extreme cases, your website could be banned from search results altogether.
Checking website for technical issues
Run checks to ensure that something hasn't gone horribly wrong with your website. These can affect your rankings and include the following:
Server errors resulting in downtime, slow pages or other poor performance
Malware being present on your website
Old versions of content management systems, plugins or other software
Missing pages resulting in 404 page not found errors
Broken links
Linking out poor quality or inappropriate websites
Expired SSL certificate
These are serious technical issues that can often result in falls in search engine rankings. No search engine will want to damage its reputation by linking to a website that has these sort of problems.
Actions of your competitors
Your competitors may have pulled ahead by doing something better than you. They might have launched a new website, new service or boosted their profile in some other way.
Google algorithm updates
Google is tweaking its algorithm continuously which probably explains most daily fluctuations. There are sometimes major, named, updates such as Penguin, Panda or Hummingbird. These can have a serious impact on search engine rankings.
Ranking tracking using SEO software
There are commercial rank trackers like Moz's or SEMrush's or Ahrefs or Searchmetrics which use a non-personalized, non-geo-biased system. Accuranker is another highly rated but commercial product – https://www.accuranker.com
There are also free products available such as Link Assistant's Rank Tracker, SEOBook's Firefox Rank Checker Extension. There are free but limited versions of SEO software that tracks and records  ranking history, traffic etc such as Sheer SEO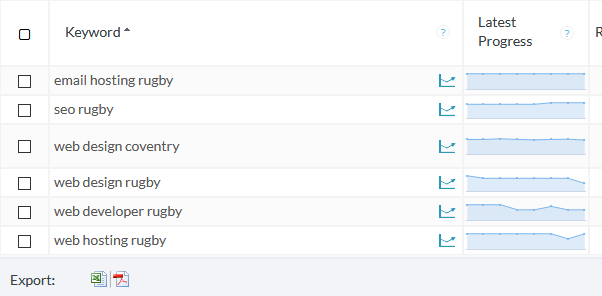 The main point here is not to panic. Once I had a panicky business owner contact me about a fall of two or three places on one day. I said I would look into it and, having established no specific problems, the rankings were back to normal and I was hailed an SEO genius. I did of course confess that this just happens and the website I designed for him was still very good and working well!
We will cover SEO tools, paid and free in future blog posts.
Get in touch with Dinesh on 07941 686113 if you need help on web design, web hosting, SEO services, domain names or email marketing.
Further reading
Google Webmasters manual actions