In an earlier blog post we covered the importance of finding long tail keywords to include in your website. As well as explaining your products and services to human visitors, the words you use signal to search engines what your website is about and what search terms trigger its display in search engine results pages (SERPS).
This can make or break the success of a website. You need to optimise your web pages with information that, where possible, uses terms that potential customers might use. Obscure jargon, technical terms or unexplained acronyms might be how you and colleagues refer to things, but use that same language on your website, you risk alienating potential customers. It can also mean you ranking lower than competitors who are using the right terms.
So how do you find the keywords that you should be using on your website? That is the process of keyword research for SEO (search engine optimisation).
Keyword research for SEO
Here is our quick three step guide to keyword research for SEO.
Step 1 – Brainstorm your list of initial keywords
Put yourself in the position of someone who is using the Internet to look for products and services that you offer.
Either by yourself or with colleagues, list the keywords they might use to type into search engines to find you. Check competitor websites too if you are short of inspiration.
Once you have between 10 to 20 then you need to find a way of prioritising these keywords and finding alternatives that you may not have considered.
These alternatives are sometimes as important as your original list. These terms aren't based on the jargon and phrases that are commonly used by you or your colleagues, but could be used by potential customers using search engines to find products and services that you offer.
To prioritise your keyword list and find alternatives you need to use SEO keyword research tools.
Step 2 – Use a keyword research tool to get search volumes and alternatives
For a quick view on popularity, competition and alternatives for a particular keyword you could just type it into Google or Bing and note how many results you get and the suggestions from the auto-complete.

That is fine for a one-off search but to delve any deeper, there is no alternative to using a free or commercial keyword research tool.
Most of the tools have these common features:
You can enter single or multiple search terms.
The tool will search your requested search engine and return the typical number of searches carried out by month or other time period.
The tool will suggest alternatives and their search volumes.
The tool will give an indication of competition for that search term based on the likely bid price for a page 1 position on pay per click advertising.
Download the information as a CSV file, excel spreadsheet or compatible format for further analysis and reporting to clients or colleagues.
Changes to Google Keyword Planner
Until August 2016, the classic free tool to use has been Google Keyword Planner which is offered as one of the tools available in a pay per click Google AdWords account. This has always had a separate, free access and provided a wealth of detailed information. This has now changed so the detailed information is only available to accounts that have live ads.
Cassie from Google explained this change as follows:
"We recently made a change to Keyword Planner that shows search volume data ranges based on spend and how you use the tool. This change aims to prevent "bots" from submitting an overwhelming number of searches in Keyword Planner, which was slowing down the tool and occasionally causing errors that prevented people from using the tool. We've heard your feedback that this limited view of search volume makes it difficult to plan new Search Network campaigns. In these cases, we recommend taking advantage of the forecasting feature in Keyword Planner. While search volume gives you a sense of the market size, other settings such as bid, budget, device, and more, affect how much of this search volume a single advertiser can receive. Forecasts, on the other hand, let you customize these settings for a more comprehensive view of how keywords might perform."
Here is an example of the free open access results: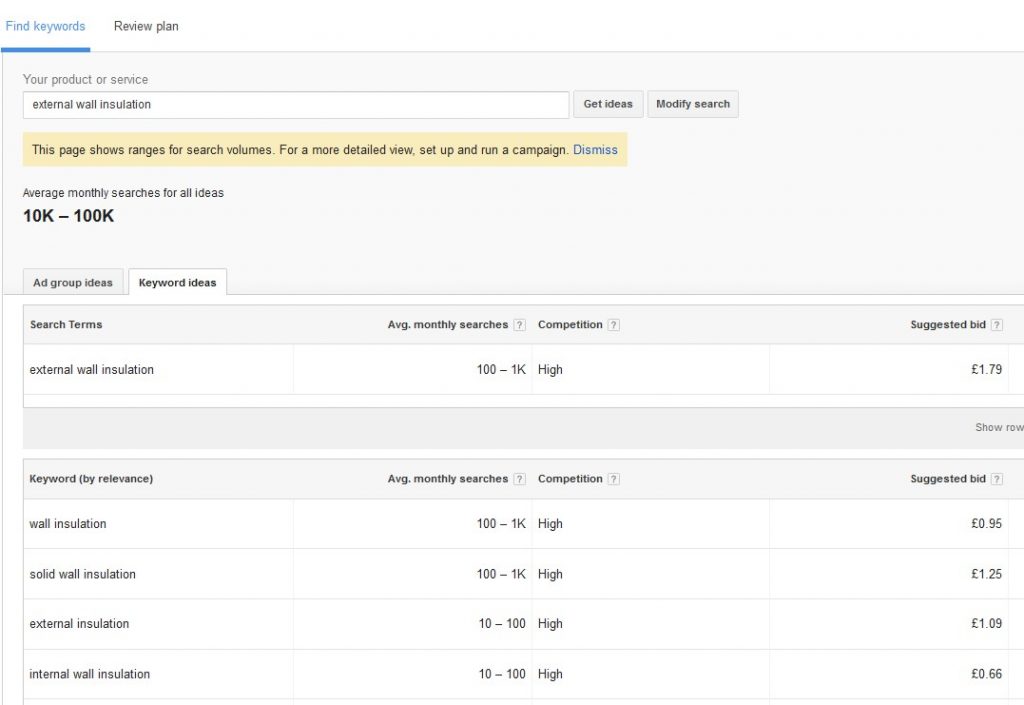 Here is the same search where you have a live Google AdWords account which includes monthly search volumes: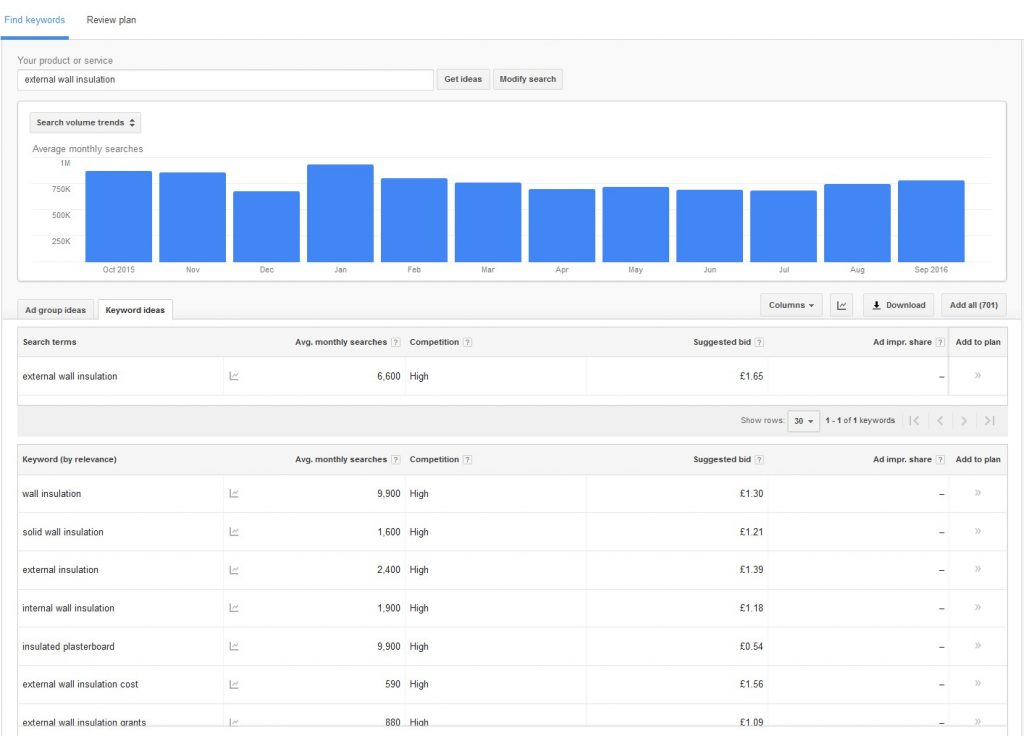 There are commercial tools which are often part of bigger suites of SEO performance monitoring and reporting software.
Commercial tools – keyword research for SEO
Commercial tools are available and often provide free but limit access to a say  5 searches per day for a particular IP address. The costs will vary but here are the 10 most popular based on a survey of SEO experts by Robbie Richards:
Best Tools for Keyword Research (As Voted by 61 Online Marketing Experts)
#1: SEMrush (36 votes) … [Get One Month of SEMrush PRO for free here]
#2: Google Keyword Planner (33 votes)
#3: Keyword Tool.io and Longtail PRO (10 votes) [Start $1 trial here or read review]
#4: Buzzsumo (9 votes)
#5: Google Trends (8 votes)
#6: Ubersuggest  (7 votes)
#7: Google Analytics (6 votes)
#8: KWFinder (4 votes)
#9: Moz KW Difficulty Tool,  Market Samurai & WordTracker
#10: SERPwoo, GrepWords, SEOcockpit, BrightEdge Data Cude & Excel (2 votes)
Another promising free tool that is currently in Beta but works well is is https://search-term.firebaseapp.com/#/
Step 3 – Evaluate and include these keywords in your website
So now you have gathered a wealth of information about your own list of keywords and suggestions, what do you do with it? Well, you could start with making a few fancy bar charts (3D never fails to impress!) to enlighten your clients and colleagues, but unfortunately that alone won't boost your website.
In principle you use the research to identify realistic target keywords, by focusing on a combination so called long tail keywords that you have a realistic chance of ranking for. You would also target higher competition aspirational target keywords that will need some proactive SEO work to generate results.
You would then use these keywords in the most important parts of your web pages and meta tags. The target keyword and phrases should also be used in blogs and website updates which then encourage other websites to link to you using the keywords. We'll discuss this in more detail in a future blog post.
Keyword research for SEO is a big subject but please get in touch if you have any further questions.
Further reading
Google keyword planner forecasting tool
Backlinko keyword research guide