In this blog posting we're covering the importance of long tail keywords, why you need them on your website and how you find them.
Long tail keywords are phrases of about three or four words which are specific to whatever you are selling or promoting. Whenever someone uses a highly specific search phrase, they tend to be looking for exactly what they are actually going to buy and your website needs to include these phrases on your web pages.
When you write content for a website you have to keep in mind two audiences:
People – visitors to your website who have found you using a search engine or who visit as a response to other forms of marketing.
Search Engines – Google, Bing and the rest (such the Chinese Baidu, Russia's Yandex and special private search Engine DuckDuckGo). These scour web pages using special programs called Bots that scrape information from web pages.
While people will respond positively to cleverly written, attention grabbing words and headlines, the search bots and search engines aren't quite that clever (yet). They pick up on phrases and words that are already in their index from other website or what people are typing into search engines.
So, the keywords are important but you need to find them first and then weave them seamlessly into your website pages so you engage your website visitors and help search engines figure out what your website is about.
Where to place long tail keywords
You need to make sure that you include the right keywords in the important parts of your web page and HTML code.
Web pages (what people see and search engines index):
Headings – H1, H2, H3 etc
Bullet points
Paragraphs – ideally about 100 words
Bold text
Italic text
Numbered lists
Alt tags of images
HTML (what some might see, but search engines extract as part of the indexing of your website):
Title tag – This is part of the HTML code that is not visible on the page but will display in the browser tab
Meta description – this isn't indexed for keywords to help ranking but helps to
How you select the keywords is covered in a forthcoming blog post but you should generally focus on including long tail keywords. These are phrases that are the subject of less searches but are more likely to rank higher.
Imagine you are selling running shoes online.
You are unlikely to rank a new page for the keywords shoes or running shoes; there's too much competition for these keywords because of the high volume  of searches.  Also if you're selling running shoes then ranking for just the keyword shoes could be counter-productive if people looking for work shoes find their way onto your website.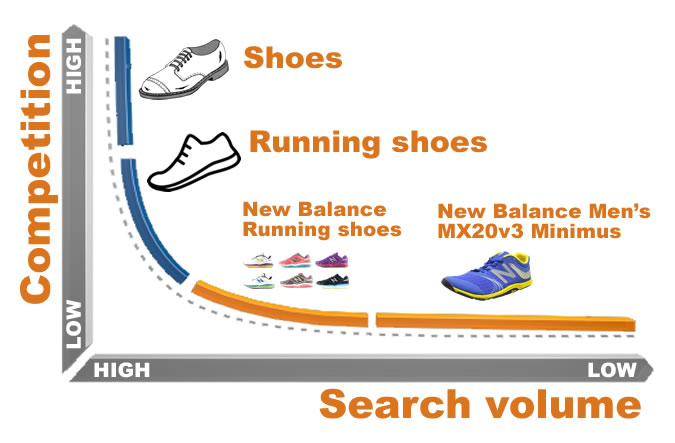 What is more productive is to build your web pages with so called long tail keywords. These are lower competition but more specific to what you are selling or promoting.
For example if you are selling New Balance running shoes you will want to include that phrase in product category pages. For the specific shoe (e.g . New Balance Men's MX20v3 Minimus) the number and name should be included in the most important parts of your pages:
Title tag
Meta description
Headings
Paragraphs
These are long tail keywords. They have low competition and low search volume but more likely to get you ranking higher on search engines.
A live example of long tail keywords
Here an example from the online sports retailer Wiggle showing the locations of important tags: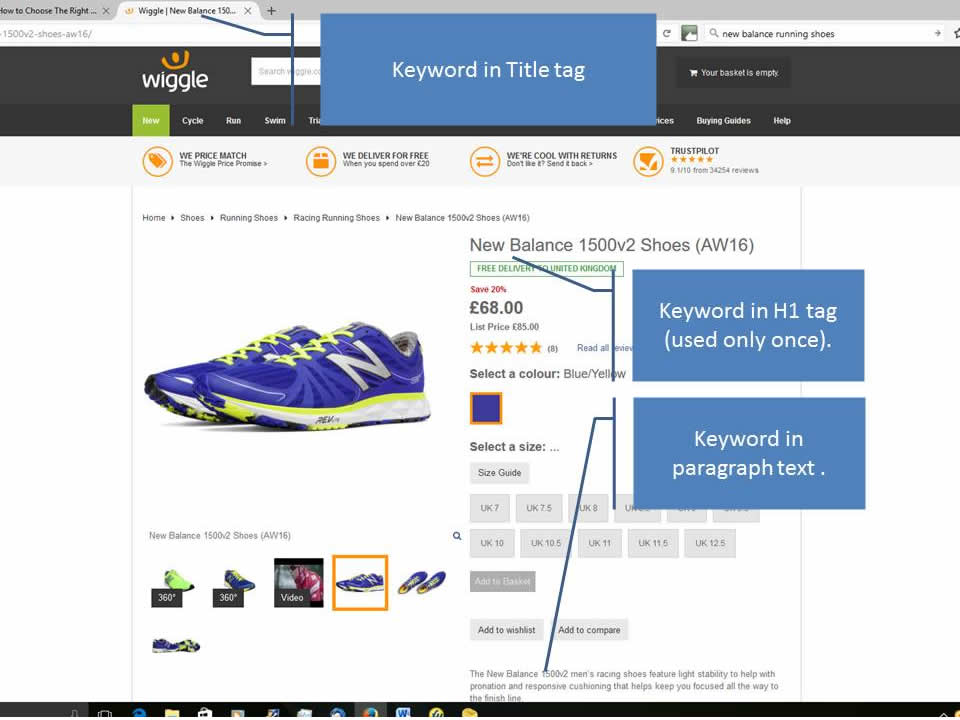 This is the meta description tag for this page from the same page:
<meta name="description" content="Buy your New Balance 1500v2 Shoes (AW16) - Racing Running Shoes from Wiggle. SAVE 20% - RRP &#163;85.00 now only &#163;68.00. Free worldwide delivery available." />
Get it right and Google will use the description as the snippet in search engine results pages which should entice people to to click on the link.
The keyword is also present in the simple URL for the page: http://www.wiggle.co.uk/new-balance-1500v2-shoes-aw16/
The same principle applies to other product types or for example professional services.
Even an established accountancy firm is unlikely to rank for the keyword 'accountants'. If the company has a successful track record of working with high street retail shops, then they can create substantial, informative content pages with the long tail keyword "accountants retail" plus the location: town or region.
There are still pitfalls to avoid and good practice to follow regarding properly optimising a page for search engine rankings. These include the following:
Having the right 'Goldilocks' keyword density (not too little, not too much about 1% is good);
Using the H1 tag only once;
Including the long tail keyword in your title tag and description.
These are areas that search engine analyse to detect unnatural attempts to influence the page rankings or, more positively, reward a website for having good quality content that is relevant to visitors and search engine queries.
Remember though that just because you have carefully optimised your pages with long tail keywords this doesn't guarantee high rankings on search engines. You still need to seek good quality backlinks, spread the word about your website on social media and do other forms of content marketing.
We'll be covering keyword research in more detail in our next blog posting. This includes a clarification on recent changes to Google's keyword planner tool.
Further reading and credits
https://www.searchenginejournal.com/choose-right-keywords-optimize/175042/
Running shoe icon – By Norbert Kucsera (https://thenounproject.com/term/running/99411/) [CC BY-SA 3.0 (http://creativecommons.org/licenses/by-sa/3.0)], via Wikimedia Commons