Cutting the costs of running your business is important but don't make the mistake of making false economies when it comes to key areas like website and email hosting.
You may save money with free email accounts from Yahoo, Hotmail etc, cheaper sponsored website hosting but you risk the following:
Poor unprofessional reputation from Yahoo, Hotmail email account for business – would you commit to spend money with a business that can't be bothered to sort their email address to a professional domain name related email account?
Low uptime, slow performing websites – this is where your reputation can suffer if your website goes offline or performs slowly.
Poor support – no website hosting can be completely without problems, but how your hosts respond to and fix problems to get you back online is vital.
Inflexible website hosting – as your business grows, your web hosting needs to flexible to meet more demanding requirements. You might need extra storage space for email accounts, more storage space for your website hosting or more memory and processing power as your web traffic increases. Sometimes your website needs to be transferred to hgher spec servers such as VPS (virtual private servers), Dedicated Servers or Hybrid servers using for example Solid Sate Drives for extra speed and reliability.
We do a great job providing web hosting and keeping our clients online. We want to make that the decision to transfer your web hosting to us easier by offering a third off your web hosting for one year. All you need to do is get engaged with us through one or more of the following:



*Once you do any of the above we'll direct message or email you a personal voucher code that you can use throughout 2016. Just enter your code when you buy a hosting package on our Web hosting shop page and we'll sort out the rest.
Web hosting costs
There are three main types of hosting available:
Shared Hosting (for sites with up to 150 visitors per day) – with prices starting at £36 per year
VPS Hosting – from £25 per month
Dedicated Hosting – Price on Application
More about our web hosting
Our web hosting comes in two main flavours, Windows Server or Linux which mean we can support most web technologies such as asp, asp.net, php, My SQL, SQL server etc.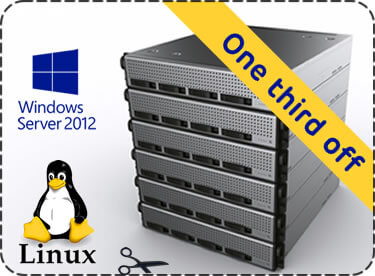 Our Linux hosting is ideal for the running the most popular open source software such as WordPress (with e-commerce plugin Woo Commerce),  Prestashop e-commerce and Joomla. Standard mail box size is 1 GB but this is expandable up to 10 GB (Gigabytes).
We can also offer hosted exchange email accounts  that have up to 30 GB of storage space and come a free MS Outlook licence. Exchange email accounts provide full access to email archive, contacts and calendars using multiple devices such as your smartphone, laptop,PC or tablet.
Domain names
We can purchase domain names on your behalf. Also if you already own a domain name then we can easily point this at our web servers with you retaining the control of your domain name registration. Alternatively we can transfer registration if you are not happy with your current domain name provider.
Our web hosting is provided through an established member of the Hosting Europe Group and utilises a UK based data centre. The web hosting platform is fully load balanced, which means our customers' websites are never reliant on one single server and are not slowed down by spikes in traffic. We can provide additional features such as premium mail boxes, Exchange Mail Server, SSL certificates, email marketing, Email SMS Notification, Email virus scanning, script installation and web design.
Backup
We provide backup services and advice on backup option. We can also offer an emergency roll back to one of the last 30 days of your website for a one-off fee of £30.
You can find more more about our web hosting packages here: Web hosting.