Writing content for your website is hard to do well. We all like to think we communicate effectively, but the words and phrases you use have a bearing on how the website ranks on search engines which is where keyword research plays and important role.
In this day and age, Google is relying more and more on its artificial intelligence ranking system Google Rankbrain, which learns from how people respond to websites and continuously refines the algorithm so it boosts better quality websites.
Although the precise details of Google Rankbrain are a closely guarded secret, any evidence of a positive user experience will be noted and contribute to the rankings. It also means that, in theory,  Google is less reliant on exact keyword matching to rank websites.
This means that your website content does not necessarily have to exactly match all the popular keywords and variations, but you do need to be aware of what people are typing into search engines. If you include some of these phrases in important parts of the website page then you are making it easier for Google to figure out what your website is about and where it should place your pages in search engine results pages (SERPS).
Google measures user engagement measures such as bounce rate (the percentage of visitors to a particular website who navigate away from the site after viewing only one page), number of pages visited per session, session duration etc. Therefore you should encourage people to stay and read your pages and explore deeper into your website. That means that your website content should work for two audiences:
your human website visitors
searchbots that visit and explore the contents of your website to add them to the search engines index
Getting them there in the first place means that you need to do keyword research to help you write the contents of your website pages. Finding out what people are typing into search engines is important as it will help fine tune your website contents. This will help you make the pages appeal as widely as possible and rank higher on Google and other search engines such as Bing.
There are many excellent commercial tools that help you analyse your keywords such as Semrush, ahrefs, Moz, SpyFu and Wordtracker, but keyword research is something you can initially do for free.
Free keyword research
The first and simplest to use is Google itself. Google provides autocomplete search predictions that appear as soon as you start typing a query. These are based on the following: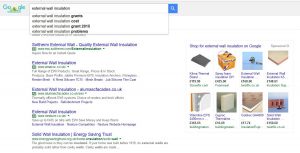 Your initial keywords
What people are currently searching, so called trending searches
Relevant searches you have done in the past
See this page for more information https://support.google.com/websearch/answer/106230?hl=en
The autocomplete suggestion features are primarily aimed at helping people search more efficiently. But they do provide a quick overview of the type of queries that people have been typing into Google. Once your search results pages you can see the number of sites featuring a particular keyword. This is useful because it shows how competitive keyword might be.
You can also use Google Trends to get further estimates of trends over time, locations and alternatives:
Interest by region
Related topics
Related queries
Keyword trends over time
If you want to get more detailed data such as monthly search trends then there are free and commercial tools available:
https://adwords.google.co.uk/KeywordPlanner
https://moz.com/products/pro/keyword-explorer
Google's own AdWords keyword planner tool is aimed at helping you find suggestions for Google AdWords advertising. We will cover tips on sung this tool in future blog posts.
Further reading
https://moz.com/beginners-guide-to-seo/keyword-research