These are very strange times indeed and we hope that you, your employees and your family are keeping safe whether you are a key worker, working from home or simply self-isolating.
Here at Web Growth Consulting we're still working as a number of our clients are in key industries such as logistics and transport. There are also a number of web design and SEO projects that we're still working on for now.
Here are some thoughts on how Google search and Internet has changed in response to the Covid-19 / Coronavirus pandemic crisis.
Working from home has never been more practical
At the beginning of the lockdown it quickly became clear that the world won't ever be quite be the same.
For office based workers, the practical options of working from home have been made possible because of fast home broadband connections and web conferencing technology such as Zoom, Google Hangouts, Go To Meeting, Skype etc.
While it's nice not having to commute every day, working from home doe
s have its own challenges including the importance of self-discipline and the fun and banter of a positive office environment.
While parents might feel guilty, children can also use the Internet to educate and entertain themselves so again it's not such a problem to keep everyone safe and happy at home.
Unfortunately the same advantages do not apply to those on the frontline where your job cannot be done from home. These include NHS workers – Doctors, Nurses and other vital staff, transport workers, cleaners, care home staff, supermarket workers, warehouse workers and key tradespeople such as plumbers, electricians.
Keeping informed has never been easier
In these times of crisis there is a huge amount of useful information and misinformation flying around. Many of us have become armchair pandemic experts, but you should apply the same critical analysis to information that Google apply in their E-A-T quality guidelines.
Has the person telling you information on social media, website or blog got the appropriate Expertise, Authority and Trustworthiness to give advice about the subject?
This often discounts celebrities (however intelligent or well meaning), influencers and others who are too forward in advancing their views. This also includes those with technical or scientific expertise but not in directly related areas. We might get lucky and they provide a valid fresh take on an issue but their credentials need to be evaluated.
Recipes and home DIY
With the lockdown, consumers are likely to have more time on our hands. That means they need to be entertained, fed and informed.
However as hairdressers and barbers have had to shut down the spike in those searching for 'how to cut your own hair' is a worrying  / entertaining trend – #hairmageddon. (Source Google Trends https://trends.google.com/trends/ )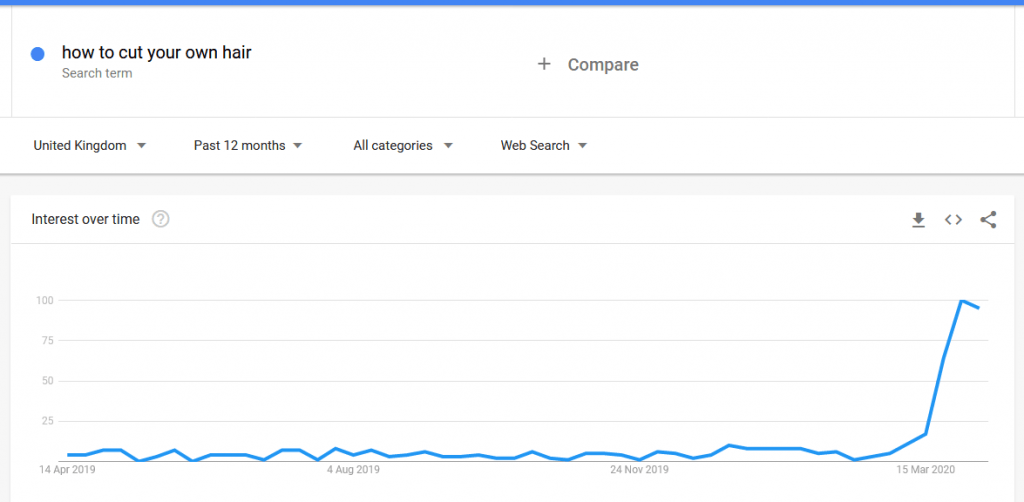 Even though supermarkets have done an admirable job in keeping the shelves stocked, supply chains have come under pressure so people have had to be more flexible and maybe seek new recipes.
Interest in making bread has also grown exponentially!
Note the figures on the Y-axis are relative, not absolute numbers.
Interest over time – Numbers represent search interest relative to the highest point on the chart for the given region and time. A value of 100 is the peak popularity for the term. A value of 50 means that the term is half as popular. A score of 0 means that there was not enough data for this term.
How businesses are adapting
If you run an online shop and your warehouse or storage can be done with the appropriate safety measures then you can fulfill a valuable role in providing products and services to consumers.
If you have a business that is still operating, now is the time to get your website up to scratch, provide information about your Covid-19 services or lockdown policy.
You could also think about providing extra services. For example local restaurants here in Rugby are running takeaway services. Clothes and gift shops are putting more of their products online.
These are challenging times and we need to keep things going if it is safe and appropriate.
Google's report on how Google search has changed during the Covid-19 crisis
While it's interesting and sometimes fun to explore Google trends, Google has released their own report on the top 5 ways search behaviour is changing during the pandemic.
The data has been compiled in an effort to assist marketers with being more helpful to customers.
There are five areas:
Assembling critical information
Discovering new connections
Adjusting to changes in their routines
Praising everyday heroes
Taking care of themselves and others
Assembling Critical Information
Consumers need help to get by and adapt to the recent changes in life.
Retailers are moving to delivery methods, schools are closed, much of the workforce is staying at home, among other changes.
Businesses and organizations need to provide clear, specific information with details about where, how, and when to get the things they need.
Google notes that search interest is spiking for the following topics:
Retail
"Can you freeze" different types of food
Home delivery
Short term work employee
Mortgage rate suspension
Discovering new connections
Even as people physically distance themselves, they're discovering new connections and nurturing relationships.
On YouTube, for instance, Google have seen a rise in "with me" videos, where people film themselves going about ordinary tasks like cooking, cleaning, or shopping.
Here is how Google advises how businesses should respond:
Look for ways to connect your customers, locally and globally.
Consider if your brand has a role to play in creating or enhancing shared experiences, virtually or otherwise.
Adjusting to Changes in Routines
People's online habits are changing as they adjust their routines and schedules to meet the demands of isolation.
There have been spikes in search interest for topics such as "do it yourself," "stationary bicycles," and "dumbbell sets."
Musicians have been performing free concerts online, other influencers such as fitness gurus have been doing live fitness routines for parents and children.
Here are Google's recommendations for helping consumers as they adjust to new routines:
Let people know that solutions are available whenever, wherever.
Assess when people need you most, whether through your own first-party data (like site analytics or email opens) or Google Trends.
Update or publish often. There's a need for content that informs, entertains, connects, and promotes wellness.
Praising everyday heroes
The weekly Clap for Carers in the UK gained momentum online and other fundraisers or people who have deserved thanks initially start online.
Google offers these recommendations for helping consumers with supporting everyday heroes:
Look for people who are helping, and find ways to support or celebrate them.
Consider who the heroes are among your employees, your customers, or even your local community.
Consider whether you have non-human heroes that can contribute, like your technology, your operational rigour, or your equipment.
Taking care of themselves and others
People have taken to searching for topics like "puzzles" and "relaxation," as well virtual tours of galleries and museums.
Google offers these recommendations for helping people find new ways to entertain themselves:
Facilitate virtual collaborations with outdoor spaces and the cultural institutions people yearn to visit.
Join the conversation about home-based health and well-being.
Pivot to platforms and formats that make sense for people staying home.
It's important to be flexible and agile in reforming your online business for the Covid-19. Above all stay safe.
Get in touch with Dinesh on 07941 686113 if you need help on web design, web hosting, SEO services, domain names or email marketing.
Further reading
Think with Google consumer Insights – Coronavirus needs
Google reveals how search has changed during the Coronavirus crisis
Best video conferencing software