An SEO audit of websites can help boost your web traffic and rankings.
A good SEO audit is a detailed analysis of your website and should reveal important information about your users, their behaviour and how your website is indexed by search engines. The scope of the audit can be extended to include competitor analysis and keyword research.
Generally if it's worth doing then it will take time to compile and interpret the data which means it should never be free. The cost will depend on the number of pages in your website and where you are in the web development cycle. Beware of anyone claiming that they can offer a free service as it will almost certainly be superficial and not be very useful. The first step is to gather data and there is no shortage of sources of data.
When you need to do an SEO audit
Here are typical situations where you should consider getting an SEO audit of your website done:
When your current website has been live for more than 4 months.
When you want to develop a new website.
When you are considering additional features.
Done properly it will help provide hard evidence and data on how your website performs and what improvements should be made.
This goes beyond important issues like design and style. However, while design is subjective, an ugly or poorly designed web page will impair the user experience and be reflected in user engagement data such as bounce rate and time spent on pages.
Tools for an SEO audit
There are tools you can use help you extract information about your website.
Some tools are free, some are premium products requiring a subscription such as AHrefs, SEMRUSH, Moz and Screaming Frog (free with restrictions).
Whatever you use, the most important step is how you interpret the data and translate this into actions, tactics and strategy for your website.
Here are some of the free tools you can use and what they do:
Google Analytics – make sure you have Google Analytics installed on your website and is tracking the website traffic. This is done by adding the tracking code between the <head> </head> tags of your website pages.  Sign up or view your data here: https://analytics.google.com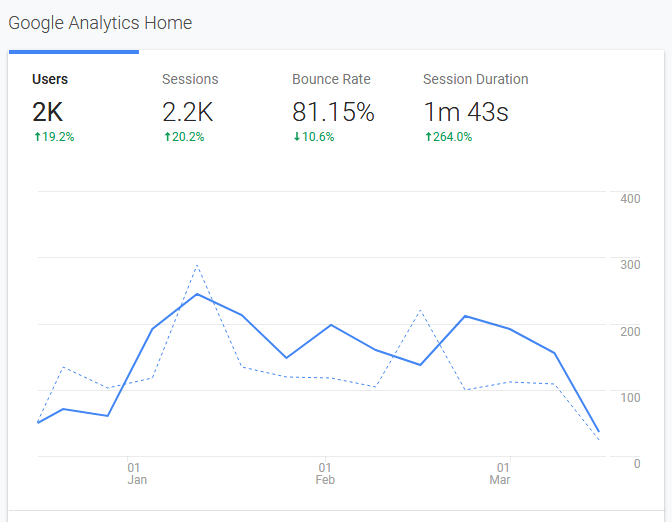 Google Search Console – Add an account for Google Search Console – validate using your Google Analytics account or adding a TXT record to the DNS settings for the domain. This helps you discover how your website is performing in Google searches.  Sign up here: https://search.google.com/search-console/about
Google Mobile Friendly Test – simply type in your URL and the tool will give you a simple pass or fail. It also provides feedback on detected issues. Visit the website here: https://search.google.com/test/mobile-friendly
Google Speed Test – simply type in your URL and it will give you an overall speed score on Desktops and Mobiles plus feedback on what areas need improving. Visit the website here: https://developers.google.com/speed/pagespeed/insights/
Website analysis tools – these check all links on your website and website pages for any broken links. We have used XENU broken link sleuth, W3C link checker https://validator.w3.org/checklink tools or the amazing Screaming Frog (free up 500 pages, if your website is bigger then you'll need to subscribe).
There are many premium tools which can automate much of the data gathering and provide some recommendations such as AHrefs, SEMRUSH, Moz etc. These come into their own when you have to audit a very large website.
What data do you need to gather?
The final answer to this question depends on the nature of you website and how you hope to use SEO audit information to help improve your website and improve its performance. .
There are some key bits of information that you will need to gather for a meaningful website audit.
Website traffic data
If you have Google Analytics installed then you have access to a huge amount of information about your website.
The initial Dashboard is a great snapshot, but delve a little deeper and you can do the following: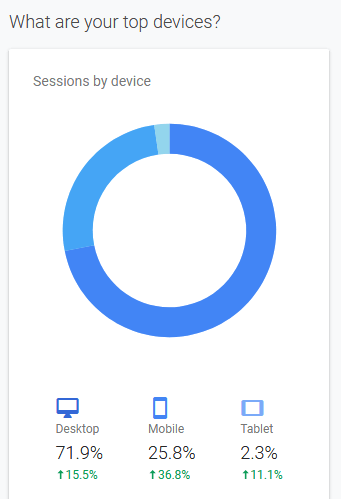 Website traffic for the last period – 7 days, 28 days, 90 days and custom time periods. You can compare this to the previous equivalent period or the same time period the previous year. This is incredibly useful way of seeing long term trends.
Web traffic by device – split between desktop, mobiles and tablets over a particular time period. Here you can determine any trends or changes in how people are using your website.
Web traffic by location – percentage split between countries and within each country subset you can drill down into web traffic from individual towns or regions.
Engagement indicators – there is an abundance of data on engagement. The most important are Bounce rate (the percentage of visitors that only visit one page of your website), Pages per session, Average session duration and New visitors vs Returning visitors.
Most popular pages – if you connect to Google Search Console you can view the most popular pages on your website as well as the path through the website.
These are standard reports that are always available in the menu.
You can also create and save custom reports (or import them from the community gallery for free).
This means that for a particular period you can compare various parameters. It's worth spending some time checking through the various dimensions.
Here are some of our favourites:
Web traffic by time of day – a custom report showing average traffic at different times of the day reveals when your website's peak times and when
Web traffic by day of the week – this shows which days of the week are most popular.
Web traffic by month of the year – which season or month generates your highest. For example a website selling summer holidays will probably get a spike in traffic in early January, while the opposite is true of a business to business type consultancy.
See our earlier blog post which explains how to create custom reports in Google Analytics – How to use Google Analytics to check the busiest times of day on your website
Using Google Search Console you can do the following:
Queries – Most popular queries that result in a visit to your website.
Landing Pages – Most popular pages found through search queries. You should hope to see your home page, blog posts and other important
Backlinks to your website – these are the crucial websites that have links to your website. You need to keep checking these as they can boost or downgrade your rankings in search results.
Once you have gathered the data then you will need to analyse and interpret the signals and the implications for your new web design or new features. We will cover this in future blog posts.
Get in touch with Dinesh on 07941 686113 if you need help on web design, web hosting, SEO services, domain names or email marketing.
Further reading
SEO Tools: The Complete List (2020 Update)
A 16-Step SEO Audit Process To Boost Your Google Rankings