For web designers and web developers, the words 'Internet Explorer' still has the effect of triggering flashbacks of feverish activity into the small hours trying to resolve cross browser problems in time for a new website launch. Although bundled with the Windows operating system and widely used, Microsoft's web browser elicits a hostile reaction from web professionals and, we suspect, used by default rather than choice, when much more secure and faster browsers are available for free.
It is therefore a welcome development that Microsoft has announced ending suppport for older browsers and encouraging users to upgrade to Internet Explorer 11. Which we must agree is a huge improvement on earlier versions.
Here's Microsoft's statement in full:
End of support is coming for older versions of Internet Explorer.
Beginning January 12, 2016, only the current version of Internet Explorer available for a supported operating system will receive technical support and security updates. Microsoft recommends that customers running older versions of Internet Explorer upgrade to the most recent version, which is Internet Explorer 11 on Windows 7, Windows 8.1, and Windows 10.
For a complete list of browser/OS combinations supported after January 12, 2016, please see the Microsoft Support Lifecycle FAQ for Internet Explorer.
Here are the benefits in upgrading to IE11:
It is backwards compatible and should be able to display websites and applications that relied on older versions of Internet Explorer
It works with modern web technologies like HTML5, CSS3, and WebGL
Internet Explorer 11 is more secure
Internet Explorer has long been playing catch with other browsers on the market that offer better security and speed and other features.
Latest browser market share in the UK
Google's Here are the latest statistics on browser market share in the UK (Source: http://gs.statcounter.com/#browser-GB-monthly-201409-201509):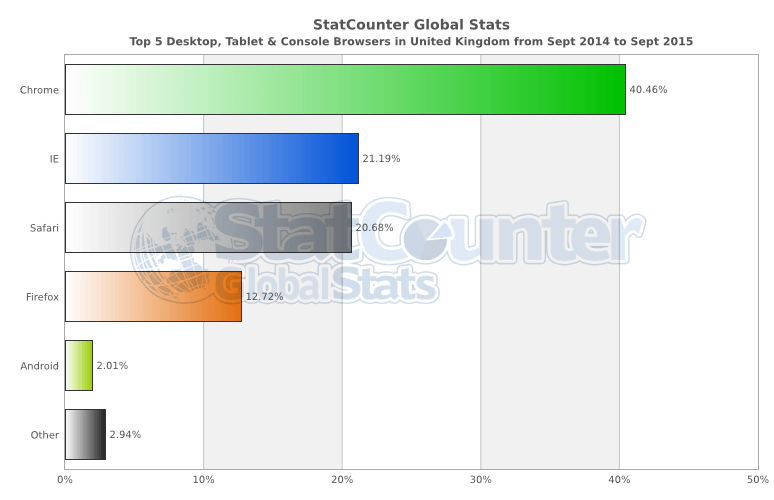 Google's Chrome is currently the most used browser in the UK and this trend has been steady for more than a year:
Further reading