Web traffic is, in theory, the holy grail of running a successful website. The more you get, the more likely your are to generate more enquiries or sell  more of your products or services. This blog post describes the most common sources of web traffic and how you can assess what is working and where to allocate your marketing efforts for the best return on investment using Google Analytics.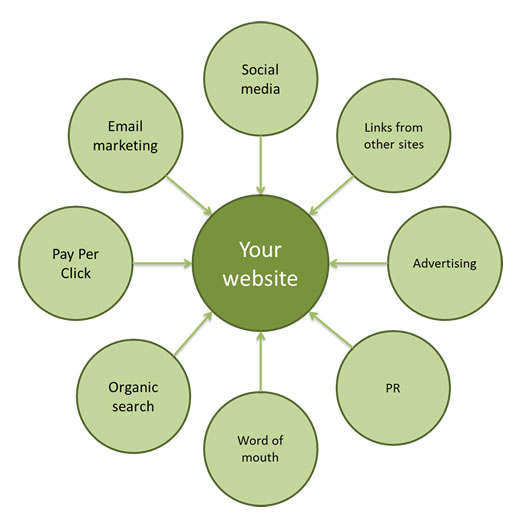 Organic search
Organic search traffic is the amount of traffic that came to your site via a search engine. There are three main search engines, Google, Bing and Yahoo with other minor players such as Ask and AOL. All aim to provide the best match for users' queries and have secret algorithms that decide, automatically, the order that website links are shown in the search engine results pages. While the algorithms are secret, it isn't too difficult to deduce what they favour and these generally encompass providing a relevant answer for a query and a good experience for the user when they visit a website.
For example, a website that is fast loading, well structured, kept up to date and secure will be boosted over a website that is slow to load, poorly structured with out of date information and security issues. Generally the higher up you appear in search engine results pages for a particular query the more traffic you generate. How you get your website higher up the search engine results pages uses search engine optimization techniques and is covered here: Search engine optimization SEO.

How you analyse whether the web traffic is good quality and generates business is something we'll cover in part 2.

Links from other sites or referrals
Referrals are any website that send web traffic to your via a link. This could be someone mentioning your website on a blog, website page, forum, reviews or comments pages. If someone with so-called 'domain authority' links to you website then this can have a positive effect on web traffic and could also help boost your position on search engines. If someone with low domain authority links to your website, you still might get web traffic but it might not be good quality.
Social media
Social media sites such as Facebook and Twitter are important places to have a presence for most businesses and can be viewed as way of generating referrals or links back to your website. For example if you have a new product or service, you should mention this on your Facebook page with a link to your website so people can find out more. If you view social media as only a source of backlinks then this is a mistake as you can use it to generate discussion, interaction and brand awareness without the hard sell that might turn people off initially. Also consider specialist social networks such as Linked In, Reddit, StumbleUpon, Digg, Delicious, Squidoo as potential sources of web traffic.
Remember to treat social media posts as part of natural conversation with an already engaged and interested audience. Too much hard sell, too soon will put people off and damage your brand.
Email marketing
An email marketing campaign should be packed with links back your website where you have more information on your products and services, news and ordering options. Most good email marketing services such as Mail Chimp and Constant contact allow you to monitor open rates, click rates and other data so you build a very useful picture of what is of interest to your clients.
Pay per click advertising
These are parts of the Search engine results pages and some websites that feature links because someone has paid to advertise their website. It is completely separate from the organic search results and the position is purely based on how much your willing to pay per click. Bid higher and you will be higher up the page. You only pay when someone has clicked on your link and it can be a very cost-effective way of generating web traffic as you can measure and track the behaviour of the this web traffic.
Other sources
Google uses direct mail to promote its Google AdWords PPC service so you should never discount the following sources of web traffic:
Direct mail
Word of mouth, through recommendations
Display advertising
PR campaigns
Personal networking
Speaking at seminars and conferences
We'll cover using Google Analytics and other Key Performance Indicators (KPIs) to measure the quality of your web traffic in Part 2. Get in touch with Dinesh on 07941 686113 or submit our contact us form.