In the last few months we have had to help out some business owners on issues with their domain names and web hosting. In some cases they had relied on a 'friend' or acquaintance buying a domain on their behalf and then either losing touch or actively falling out with the person. This left them unable to do anything with their domain or in one case the registration lapsed which resulted in the domain going on the open market for resale. In other cases, a couple of big domain and hosting companies had provided terrible customer service and caused unnecessary problems with setting up services and hosting.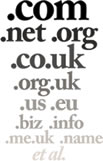 We managed to resolve these problems and get back control in all recent cases but no one should be left in that position in the first place. Your website domain is your brand and as important as your business or trading name. It should be fully owned by you or entrusted to a reliable, ethical company who are transparent about where your website is hosted and who has control over the registration of the domain name.
We always encourage our web design clients to buy their domain themselves and we can recommend a couple of good, reliable companies to use. We would then point the domain name at our web hosting and then there can be no future issues – as long as the client renews their domain name of course.  We do buy domains on behalf of our clients but always make sure that the registration details identify our clients as the domain owners.
personally I would never use a business with a 'free' email address e.g. yahoo, hotmail, btinternet etc
Depending on the package, you would have website and domain email addresses – personally I would never use a business with a 'free' email address that is yahoo, hotmail, btinternet etc (see this article What Does Your Email Address Say About You?). Our web hosting is provided by UK based Heart Internet who provide us with highly reliable, fast hosting that caters for any client need:
[checklist type="arrowed"]
Shared hosting on Linux or Windows – suitable for most small to medium sized businesses. We can provide multiple email addresses, fast reliable hosting and quick support with most issues being corrected within 4 hours or sooner. All mailboxes come with 400 MB of storage which can be upgraded instantly at £15 per 2 GB. Shared hosting prices start at £36 per year.
VPS or Virtual Private Server – using the Linux or Windows operating systems with optional control panels cPanel or Plesk, unlimited bandwidth and high speed and reliability. This is for high traffic, often e-commerce operations who require extra features such as secure server, extra security and near 100% uptime. One of our clients handled over £1 million of transactions on their website last year!
Dedicated or hybrid servers – as above but able to cope with even higher traffic levels or multiple websites.
[/checklist]
If you have any questions about domains and hosting get in touch with Dinesh on 07941 686113 or submit our contact form.