Everyone wants their website to rank higher on Google. By appearing higher up the Search Engine Results Pages (SERPS), your website will get more visitors and you will generate more business.
Potentially it's a massive subject, but we have boiled the process down into the key steps: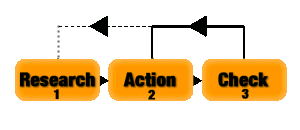 Research
Action
Check
Step 1 – Research
We're not advocating months of exhaustive analysis of market trends and positioning but whatever your business size, you should be able to answer these questions:
How many visitors does my website get?
How many orders or enquiries does my website generate?
What keywords should people use to find my website, are there more popular alternatives?
What are my competitors doing regarding their website, social media, email newsletter and other advertising?
Where am I looking for new customers, are they local, national, international, do they enquire or look for your services at certain times e.g. office hours, evenings, weekends etc?
Google provides a number of free tools such Google Analytics, Google Webmaster Tools and Google Keyword selector tool to help analyse your own website. You should also look closely at what your competitors are up to: what they are doing well, how they are ranking for certain key phrases, are they using Google AdWords, other advertising etc.
This vital first step helps you prioritise and identify what to do next – Action!
Step 2 – Action
The Actions you take should be informed and shaped by what you find out in the Research step, but could include the following:
Revising the website copy, meta tags on your website
Seeking links back to your website from partners, complementary services, friends, directories etc
Adding new features to your website to keep the content fresh and growing e.g. blogs, importing social media content, news updates etc
Generating and submitting an XML sitemap to Google
 If you sell products online, generate and submit a product list to Google at least every 30 days
Setting up social media to direct people to your website.
The final choice of Actions will be dependent on your business, your budget and time.
Step 3 – Check
Is what you've done working? Check all your available data, website traffic, number of orders, number of enquiries, website position in SERPS etc. Use that information to adjust your actions and research further relevant options for boosting your website.
Get in touch with Dinesh on 01788 844014 or Contact us form to discuss how to boost your website on Google.