Google AdWords has been around a long time and, in our view, is one of most cost-effective ways of advertising your business. Using the features it offers and the data it provides you have levels of spending control and targeting that few other channels can offer. This level of control allows the account manager to continually revise, tweak and improve various aspects of the account with the aim of increasing web traffic, increasing quality leads or a reducing costs, or a combination of all 3.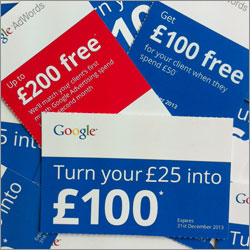 The obvious downside to Pay Per Click (PPC) advertising, such as AdWords, is cost. Unlike organic search, paid search costs money every time someone clicks on an ad, and this ongoing cost is often enough to put companies off. It's not right for every business but it's definitely worth trying. We have seen some amazing results for clients, generating new business and easily justifying the cost of advertising.
We have vouchers, lots of them!
We're regularly sent promotional vouchers codes directly from Google. Unfortunately these vouchers cannot be used on existing accounts, they can only be used on new accounts.
We've just taken delivery of another bundle of credit vouchers (20 vouchers to be exact!), and we're now looking to give each of them a nice new home.
Up to £200 FREE AdWords Credit …
Spend Match, up to £200
This voucher code will entitle the user to free click credit in month 2 of their campaign, to the same value as they spent in month 1, up to £200. Simply put, if you spend £100 in month 1, Google will add £100 free credit to your account in month 2. The maximum Google will deposit in month 2 is £200.
Get £100 credit when you spend £50
This voucher entitles the user to a £100 top up when they spend £50.
We're currently giving these vouchers to new AdWords clients who come on board, until we run out of vouchers, with the minimum term being one half day to enable us to setup your advertising. Get in touch with Dinesh on 07941 686113 or use our contact form for more information. Be quick though as both offers expire on 30 September 2013.