Google Search Console is a free service that provides vital information on how Google crawls and stores information about your website. It is free, but you will have to prove ownership by verifying your website through one of these methods:
Linking with the Google Analytics Account for the website
Uploading an html file that Google provides to the public html root folder
Adding a particular tag between the head tags of your webs pages
Once you have setup your Google search console account you can start accessing all that useful information that will help you improve your website and help it rank higher on search engines.
We would recommend spending some time each week checking the Google Search Console account for your website. Google passes on important messages such as whether your website has security problems, broken links, missing pages and any search penalties for poor SEO practice.
One of the most useful features of Google Search Console is the data it provides about the search queries people are using to visit your website and other related data.
Use Google Search Console to discover search queries
First of all, log into your Google search console account and select the website you want to analyze.
Go to Search Traffic > Search Analytics. The default view shows a list of the search queries that resulted in a visit to your website for the last 28 days. You can analyse this further, for example filtering the information to change the date range to the last seven days, 28 days, 90 days or a custom range.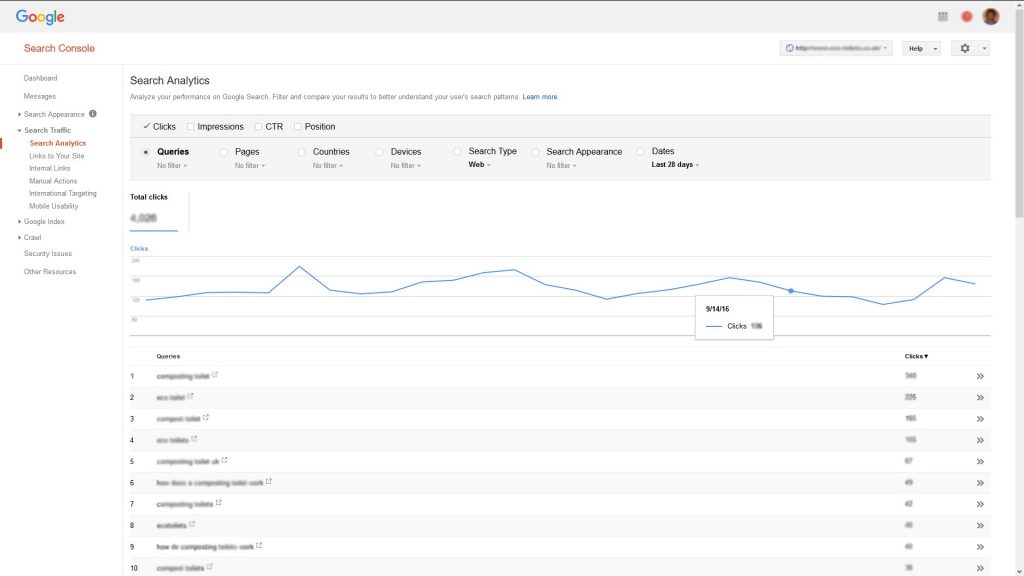 There's many other options you can explore by simply clicking on the down arrow:
Search type – web, image or video
Devices – mobile, desktop or tablet
Countries
Pages – construct a filter to show which are getting the most clicks
Queries – filter to exclude or include keywords
The most useful view appears when you click the tick boxes: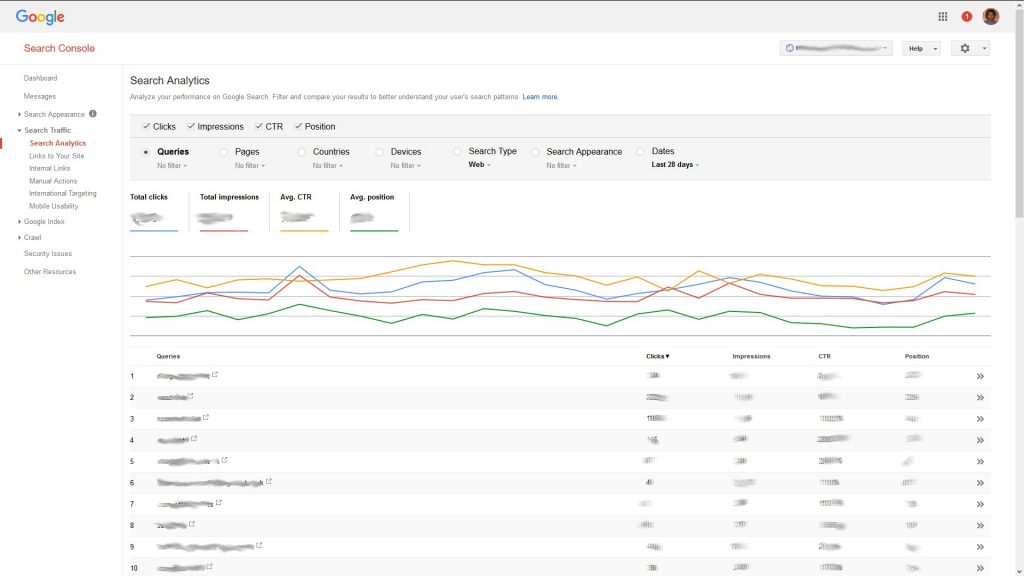 Clicks – the number of times someone clicked on your website link in search engine results pages to visit your website.
Impressions – the number of times your website link displayed in search results pages.
CTR – Click Through Rate – the percentage of Clicks to Impressions, the higher the better and a good indication of how your web pages are getting indexed.
Position – the ranking of your website link in search engine results pages.
The lines show the trends over the selected period. If you scroll to the bottom of the pages you will find a Download button which lets you download a CSV file of the data view. You can then download this data and import it into your spreadsheet programme for further analysis.
Further reading
Analysis techniques for Google organic search and SEO
Improve your website's presence in search using the Google Search Console (also known as Google Webmaster Tools)
How To Find Queries Per URL Using The Search Analytics Report In Google Search Console (GSC)