If you work for or run a small to medium sized company then you have to be prepared to take on tasks that, let's put this politely, aren't necessarily in your core skill set. One of these crucial tasks is making sure your website communicates the right message and generates business through direct sales or good quality enquiries. In big companies, there will be separate marketing and PR departments that would take care of this but that isn't usually the case in even medium sized companies. This blog post aims to give you some basic web design tips for small business that will help you identify the important steps in commissioning a new website that helps your business grow.
Here are the main areas to consider: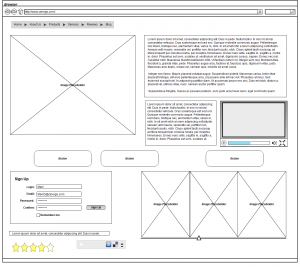 Website navigation
You'll have a home page where most visitors will first arrive but what then? Where do you want your visitors to go to find more about your services and how are you going to label each section of the website menu.
You don't need any fancy tools to work this out. A simple bullet point list with sub lists in a document is often enough to plan and communicate ideas with others. You'll need to work out how to refer to section e.g. 'About us', Product or service names etc . Also there will be limitations on the number of words you can use in the menu and navigation has to be understood at a glance.
Branding
You'll have a logo and colour scheme and your web designer will need to ensure that is carried through to web design. While an effective website might require some compromises on some elements such as text fonts and colours, your website and other marketing should appear to be part of the same family. An example compromise might be colour contrasts of backgrounds and readable text: A leaflet of 1 to 200 words might look great with light coloured text on a dark background, but this is often difficult to read on screen and in situations where you have a lot of text. This is where the rules of branding and consistency might have to loosened to have a usable, effective website design.
Search Engine Optimization & User Experience
It's not about you, it's about the user. The main search engines Google, Yahoo and Bing will only feature your website in organic search results if they conclude that your website provides a good user experience in terms of web design, content and providing a good answer to their search query. This decision is automated using an algorithm and is based on a large number of so called ranking factors that decide where a website will appear in search engine results pages (SERPS). See our earlier blog post on ranking factors. For example high resolution images that haven't been optimised for size, might look pretty, but can slow down how quickly a website displays to the user which will make your website rank lower in the SERPS.
You need to bear this in mind when planning your website and build it into website design.
Website content
Website pages contains both written and visual content, which should work together to clearly communicate your brand message and main value propositions. All should work together to deliver a good user experience and meet their search query. Also hidden content such as meta tags and descriptions are important for SEO and should be included in content planning.
For SEO purposes there is rule of thumb of 300 words minimum per page to get search engines interested in crawling and indexing the content and this should be broken up by headings, bold text, italics and bullet lists. Where possible you should use target keywords on your page: words that potential customers might use to search for your products or services. Do this in moderation as too many keywords as this starts to diminish the user experience and search engines can usually detect attempts to fool them or artificially boost keyword count.
Design is subjective but trust should be universal
We can argue, often at great length, about shape, colour schemes and layouts; design is often a matter of personal taste. What isn't up for discussion is creating a website design that gives the right impression about a business and their services. An outdated web design can make a firm look like their services are outdated or don't care about their customers. Additionally, sloppy, poor, disproportionate, or busy designs can all fill a website visitor with doubt and mistrust.
Get in touch with us on 07941 686113 to discuss web design, submit our enquiry form or visit our web design Rugby home page.
Further reading on web design tips
Grand designs: how to build the perfect website
Why Website Design Is Still Important