The latest WordPress version 4.5 'Coleman' is now available for download. Named in honour of jazz saxophonist Coleman Hawkins, WordPress 4.5 has several new features that help you streamline your workflow, whether you're writing or building your site.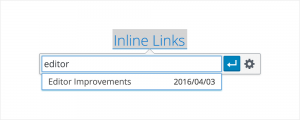 The most obvious improvement is the new inline editing of links feature. Simply highlight a piece of text, click Insert/edit link and you get a very helpful inline field where you can paste or type the link in directly. For SEO purposes and general helpfulness to the reader, placing links of all kinds in your text is very important as this lend credibility to your content by referring to other pages on your website or linking to other websites with outbound links. There's now no excuse for not adding links all over your content.
Other improvements include the following:
Comment Moderation Improvement
WordPress 4.5 features a refreshed comment moderation screen styling to make it easier to manage comments. Comments can also now be viewed in an editor.
Image Optimization Improvements
Image optimisation has been enhanced even further to create up to 50% smaller files while retaining the image quality.
Login as Username and Email
As of 4.5, you can now login by username and email. You could always use your email address as a username, but now the login accepts your account email address and username. It will come in handy, users are much less likely to forget their email address.
For developers
Script Loader Improvements
Better support has been added for script header/footer dependencies. New wp_add_inline_script() enables adding extra code to registered scripts.
Better Embed Templates
Embed templates have been split into parts and can be directly overridden by themes via the template hierarchy.
JavaScript Library Updates
jQuery 1.12.3, jQuery Migrate 1.4.0, Backbone 1.2.3, and Underscore 1.8.3 are bundled.
To update to WordPress 4.5
First off all backup your website files and database by downloading to your computer or on the mountable backup of your server. Avoid saving the backup files to the root of the public_html folder of your server.

Then either click the Please update now link on the tip of the homepage of your Dashboard > Updates. The update should proceed smoothly and you will have updated to WordPress 4.5.
For more information