Setting shipping charges on your online shop is a big decision that affects your profits. If you run an online shop then you are used to making decisions that affect profitability: how much you pay suppliers for your products; the selling price and how you are charged and what you charge to ship products to a customer.
All of these factors play a part in the purchase decision for customers. While trust, product quality, great customer service and other factors come into play, the final charge for the product and shipping will be a critical point in the buying decision.
Shipping charges for the customer may or may not reflect the actual cost of shipping. In fact many online shops use shipping charges as a way of giving special offers and stealing a march on competitors. Some higher risk strategies may also use it a temporary loss-leader, losing money on shipping in the short term to grab market share and then introducing more realistic shipping charges at a later date.
For example Amazon has always provided shipping for orders above a particular value. As e-commerce and online shipping has developed over the years, shipping charges have become even more complicated in response to shoppers being more savvy about shopping online.
What you will be charged for shipping
So to make your decisions on shipping charges, you need to start with how much your products will cost to ship.
The main factors that come in to play here are weight, but also dimensions. The UK Royal Mail calls this the volumetric weight – see their price finder http://www.royalmail.com/price-finder for more information.
If your items are small then you may get away with sending them as letters if it within these limits:
Max length: 24cm
Max width: 16.5cm
Max thickness: 0.5cm
Max weight: 100g
At the time of writing (February 2017), a first class letter costs 64p, second class 55p which includes free insurance up to the value of £20. Signed for / proof of delivery adds £1.10 to the price which may be worthwhile so you definitely know that the item has been delivered.
The UK Royal Mail has another Large Letter category:
Max length: 35.3cm
Max width: 25cm
Max thickness: 2.5cm
Max weight: 750g
At the time of writing (February 2017), a first class large letter costs 96p, second class 75p which include free insurance up to the value of £20. Signed for / proof of delivery again adds £1.10 to the price.
For sellers of small items at low volumes then these prices are fairly competitive. Larger, heavier parcels (over 2 kgs), shipping internationally or higher volumes of small items means that you should look at the courier companies, Royal mail parcels or Parcelforce.
Here you are likely to find a bewildering array of options but let's break this down:
Factor in the time and distance for getting your items to a courier – some may pick up at regular times of the day, increasingly some may offer a local drop off.
Think about delivery times and insurance.
It's important to get proof of delivery for valuable items so unscrupulous customers can't falsely claim a product never arrived.
Some couriers may be cheaper for particular countries (for example PTI – parcels to Ireland)
While you may be able to secure a good deal with one courier, some may be better for particular areas or be cheaper for express deliveries. There's no substitute for researching and comparing different companies. Here are the pricing pages for three companies:
UPS – https://wwwapps.ups.com/ctc/request
Hermes – https://www.myhermes.co.uk/our-services/our-prices.html
DPD – http://www.transglobalexpress.co.uk/dpd/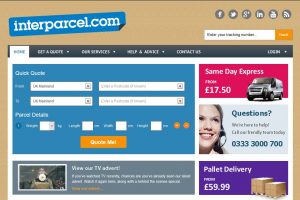 Our particular favourites are market comparison websites Interparcel – https://www.interparcel.com/ – and Parcels2go – https://www.parcel2go.com/ – that take your parcel weight and dimensions, pick-up and delivery locations. They then compare prices and options across different couriers and options and let you book and pay online. These are quick, easy and highly recommended.
So these are the main options for shipping products, but you may or may not want to pass on the full costs to your customers. This is covered in the next section.
How do you set your shipping charges for customers?
Online customers like to know how they are going to pay. Online shops will display the price of an item prominently but they may not show the shipping cost until the customer adds the item to their shopping cart, registers their account and finalises their Checkout.
This is because the system does not know what to charge until it knows the delivery address for the item.
The alternative is to have a flat fee per delivery, free delivery for orders above a certain value, flat fee per item or free delivery (with the delivery cost included in the purchase price).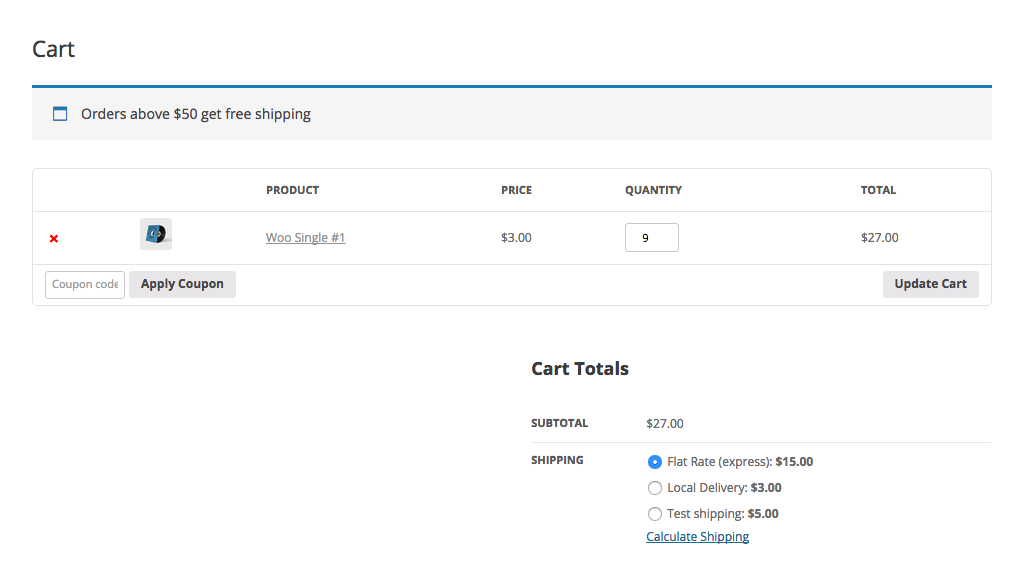 For example here is Amazon's description of their standard delivery charges – Amazon shipping charges:
We calculate the total weight of the items you've ordered and apply the appropriate delivery rate.
Media: £1.99 per delivery on orders weighing up to 0.5kg and £2.99 on orders weighing above 0.5kg. Media consists of Music, DVD, Video Games and Software.
Books: £2.99 per delivery.
All other product categories: £3.99 per delivery on orders weighing up to 0.5kg and £4.75 per delivery on orders weighing above 0.5kg.
For orders from multiple product categories, the higher per delivery rate will apply.
If your order includes £10 or more of eligible books, or £20 or more of eligible items across any product category, your order will qualify for FREE Standard Pickup.
However you pass on delivery charges, you need to accept that chasing the exact cost and charging that sound simple but isn't normally the best option. You should aim to lose or profit slightly from each shipped order. This should be minimised and tested thoroughly to avoid anomalies like under-charging for shipping heavy items or over-charging for shipping heavy items.
What you should aim for is a shipping strategy that is reasonable: easy to understand for your customers and easy to implement and setup for your products. There may be a cut-off point where you no longer pass on the full costs of shipping if the item is particularly heavy.
Remember to factor in the following:
Courier charges
Packaging materials cost
Taxes for products, EU, Non EU etc
Duties for International deliveries
Here we go through some of the most common options and their pros and cons.
Table rate by weight / real courier charges
This is a system that most closely reflects the approximate charges from couriers.
You need to have added a weight for each product in your shopping cart software. The system will add up the total weight of the items in the shopping cart and then calculate the total shipping charge based on the total weight and probable charges from couriers.
For example, here is an example shipping table from our ECO Arcade online shop https://www.ecoarcade.co.uk/ :
| | | | | | |
| --- | --- | --- | --- | --- | --- |
| Weight band | 0 to 0.99 kg | 1 to 2.99 kg | 3 to 3.99 kg | 4 to 4.99 kg | 5 and above |
| UK | £1.00 | £2.95 | £4.95 | £6.95 | £9.95 |
| Europe | £1.45 | £4.45 | £6.95 | £9.95 | £19.95 |
| Europe (non EU) | £1.95 | £4.45 | £6.95 | £9.95 | £19.95 |
| North America | £4.95 | £7.95 | £9.95 | £24.95 | £39.95 |
| Middle East | £4.95 | £7.95 | £9.95 | £24.95 | £39.95 |
Even these charges are approximate but as fair as we could make them.
Pros
Fair and transparent system for charging
Unlikely to get outlier charges that put off the customer
Losses or profits from shipping low if setup correctly
Cons
Admin costs of weighing and adding weight information to products
Shipping costs cannot be shown until a delivery address is entered by the customer
Order value shipping
This is falling out of favour but charges are based on the total order value. The higher the total order value, the higher the shipping charge.
Pros
Easy to administer as there's no entering product weights
Easy to understand for the customer
Cons
Penalizes high spending customers
Inaccurate charges that don't match the actual shipping costs leading to excessive
Flat rate shipping
Charging a flat rate per item or per shopping cart is a simpler option and works well when you have products that are fairly uniform in weight and size such as clothing. If your products vary in size and weight then this is not recommended.
Pros
Easy to understand for the customer
Relatively easy and quick to setup and administer
Cons
Can lead to excessive charges if many items are included in the cart
Can lead to losses on shipping if many items are included in the cart
Free shipping
This is the easiest to understand for customers and can be used as a permanent policy or be triggered for orders over a particular value. It can also be used for temporary promotions.
Pros
Easy to understand
Easy to setup and administer
Cons
Costs can eat into profits margins
Complicates the issue of returned items
There are other combinations and options but these are the most common. The final choice depends on the nature of your products and being fair and transparent to customers. Remember you still need to make a profit at the end of the day.
Most online shoppers expect charges but know when they are being charged too much so test your shipping charges thoroughly using different scenarios.
Save