If you have a business with even a half decent web presence you'll no doubt be regularly assailed by companies offering SEO (search engine optimisation) services that they claim will transform your business, boosting your web traffic and generating enquiries and sales. While many will happily take your money and never deliver on their claims, the process of optimising your website is very important and not acting means you could be missing opportunities. Most business owners will be too busy to do a lot of the work themselves so you will need to consider hiring a company. So how do you spot the good guys?
Initially the basics of any healthy business relationship should apply: you get on; they respond to your questions; they have a good track record and have clear plan for what needs to be done. If however they make just of the following claims then you should end the relationship there and then!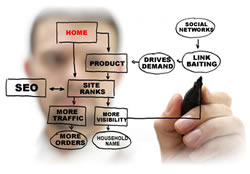 Claim #1 – "We'll work for free"
No one should work for free ever. Watch out for any free for a fixed period arrangement which means you might get whacked with future charges.
Claim #2 – "We guarantee first page ranking"
No one can guarantee this. You can work to boost a website's position in search engine rankings but, if you know anything about SEO, you cannot be sure to reach the first page.
Claim #3- "We submit your site to hundreds of search engines"
There are not even 10 search engines worth bothering with: Google, yes; Bing, yes and then a few more specialist sites. For example the big portal sites like Yahoo simply rebrand Bing's search results as their own so if you optimise for Bing then you are covering Yahoo as well.
Claim #4 – "We have a special relationship with Google"
No one has this, no one ever will. Google's dominance is because of the relevance of its search results which has been achieved through the integrity and the absolute lack of bias in the rankings. It has intervened in the past in very special circumstances but this was on behalf of the wife of the current US president!
Claim #5 "We are Google algorithm experts"
Google Algorithms are complex things to understand. And when it comes to the algorithms used for SEO purposes they are not only complex but are also very dynamic in nature and keep changing from time to time. It is fine to know a lot about certain parts of it but it is absolutely impossible to be an expert of the entire thing. If somebody is claiming this, he's simply trying to fool you.
Claim #6 "We have secret formula for SEO success"
SEO actions should be transparent and clear. You should know what your SEO company is doing for you as the wrong activity could lead to your website getting delisted by Google.
If you have any questions on SEO get in touch with Dinesh on 07941 686113 or submit our contact form.
Read the original article here: 6 SEO Scams you Need to Check while Hiring an SEO Company