The importance of backlinks in SEO cannot be stressed highly enough.
Imagine recreating web pages for products on a well-known online e-commerce website such as Amazon.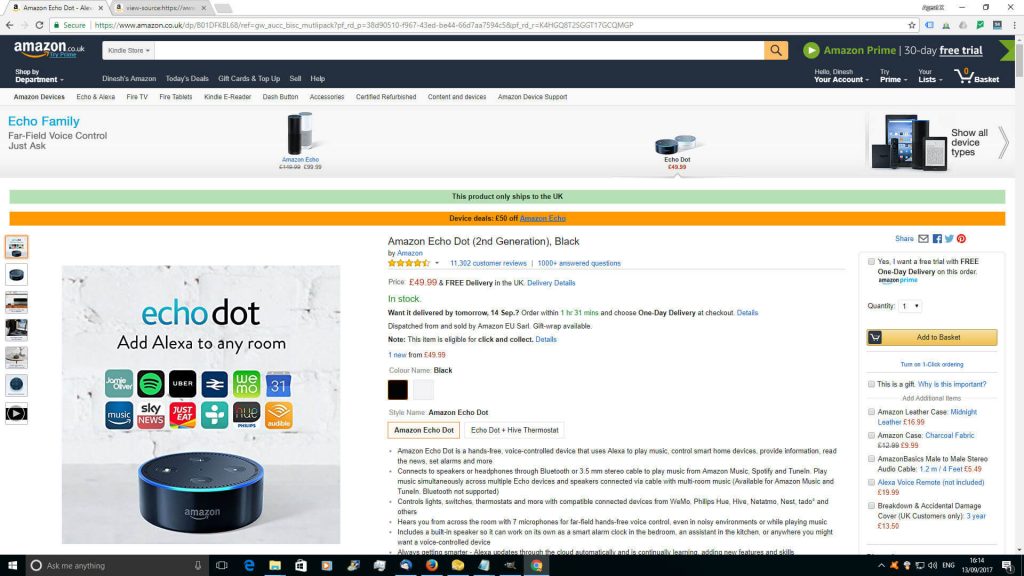 These would include all those desirable on-site factors such as optimised images, fast load times, clean code etc. If you hosted (see our page on web hosting and buying domain names for the services we offer) these pages on a domain that you own, would you then be able to sit back and wait for the orders to roll-in?
Well, the simple answer is no. The reason is a combination of the quality of backlinks to your new pages and the authority of your domain.
Why your page won't rank or receive the same number of visitors
You probably won't be surprised to hear that your newly copied pages won't get the same web traffic or ranking on search engines; at least not straight away.
This is because the backlinks pointing at the domain name influence the rankings on search engines. Also, Amazon also has a considerable budget for marketing which generates traffic from people clicking on links in emails, Pay Per Click advertising and other advertising that point back to these pages.
There are other individual ranking factors (over 200 and counting), but the quality and quantity of the backlinks to your website is one of three major ranking factor types that influence ranking.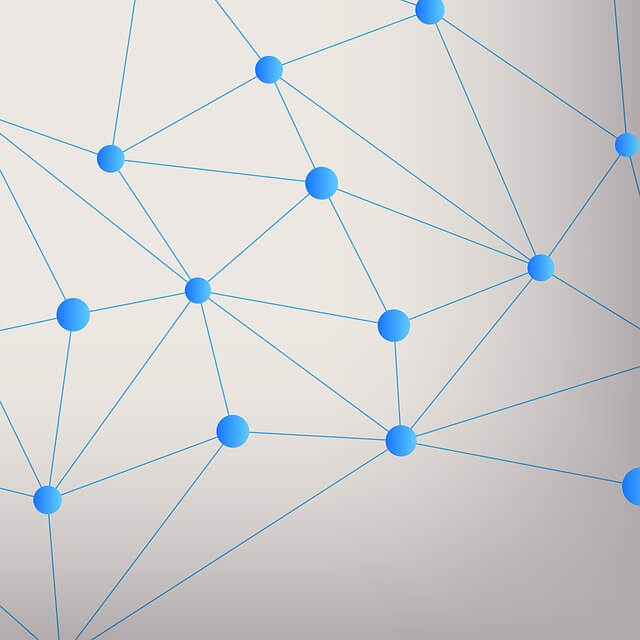 In a podcast last year, senior Google search engineer Andrey Lipattsev said rankings were affected by "content and links pointing to your site" (See Google reveals the three most important ranking signals quality content, links and rankbrain).
We have other resources that discuss content quality (see How to write quality content for SEO) but backlinks are crucial.
Getting quality backlinks is arguably harder to achieve (or less predictable) than producing quality content as you are often relying on someone influential recognising the brilliance of your content and adding a link on their website, forum answer or social media share. Here are some strategies for getting good quality backlinks based on our experience and the best advice of the web.
Some strategies for getting backlinks
Here is a list of what we think are the most important strategies for getting backlinks:
#1 Have brilliant content and an excellent website but don't assume that alone will get backlinks
Your website should be as good as you can make it. This can mean many things, but think of your users and what they need or would find useful or entertaining. That should be your starting point.
There are many on-page / on-site tactics to make your website excellent but don't assume that alone will gain you backlinks. As SEO guru Brian Dean says:
There are WAY too many people in internet marketing today that think "great content" is enough.

They say, "if I publish great stuff, people will naturally link to me".

If only it were that easy.
You need to be smart and proactive in trying to get backlinks. The work should pay off in the long run but be prepared to think strategically and put some effort into promoting your website to target potential providers of backlinks.
If you have an excellent website, with great content then you're part way there. But only part way. The next step is persuading the right people to link to you. But before you do that it's a good idea to check what your competitors or peers are up to in terms of content, website features and backlinks.
#2 Find out who is linking to your competitors
One of the quickest ways of focusing your efforts is analyse the links of your competitors or those websites that rank highly for your target keywords.
You can use Google to check the backlinks of certain websites using link: followed by the domain name you are interested.
link: bbc.co.uk
Type the above into Google and you'll get a list of their backlinks. This is great in theory but it cannot be relied upon. (https://moz.com/blog/google-link-command-busting-the-myths)
If you want to conduct a proper competitor analysis including backlinks you are better off using one of the many excellent SEO software services on the market such as the following:
See a review here: The best SEO tools of 2017
There are also free tools available for checking the backlinks on individual websites:
Moz Open Site Explorer – https://moz.com/researchtools/ose/ – the downside is it limits the number of queries from your IP address.
Open SEO Stats – one of many extensions for your Google Chrome Browser, we like this one but there are many so try out
SEO Review tools – http://www.seoreviewtools.com/ – highly recommended backlinks checker. Again limits the number of searches you can carry out per day.
Once you have acquired the information on competitor backlinks you need to analyse them for quality and potential for your own site getting mentioned in that site. Make a spreadsheet and choose between the following actions for each backlink:
Take action
Disregard
Analyse further
Take action could involve emailing the site owner to ask for a link to your particular piece of content or website. Another action could be answering a particular question on advice sites such as Quora or Yahoo Answers.
When you evaluate backlinks using free or subscription SEO tools, you'll often see quality scores out of 100 such as Domain Authority and Page Authority (Moz – see https://moz.com/learn/seo/domain-authority )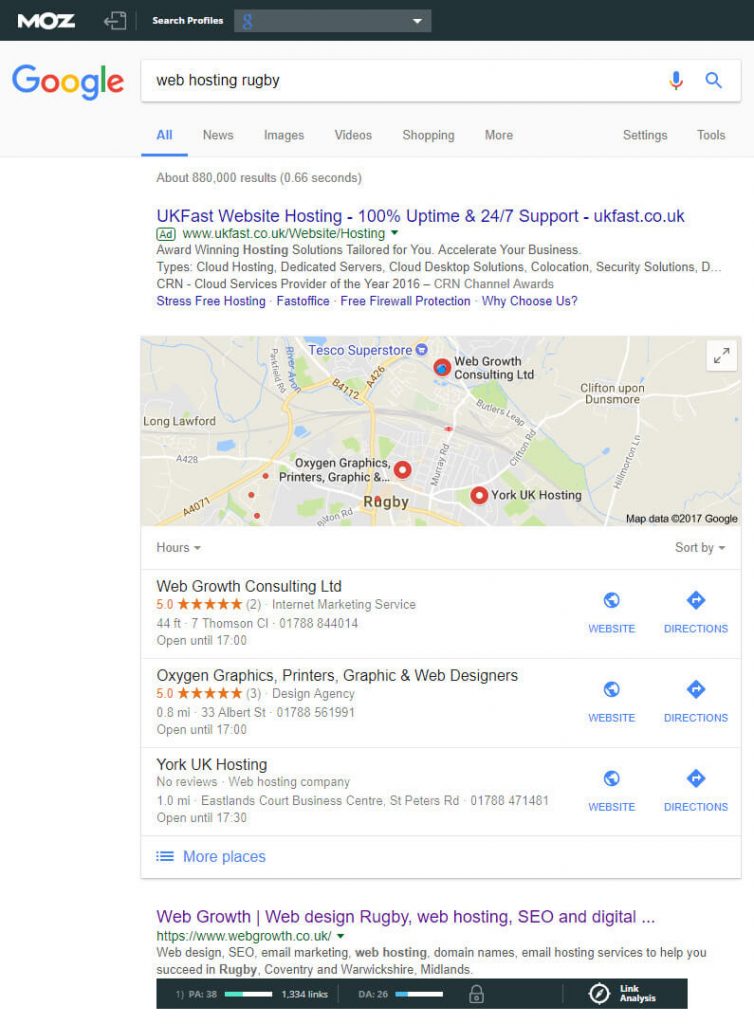 Domain Authority (DA) is a search engine ranking score developed by Moz that predicts how well a website will rank on search engine result pages (SERPs). A Domain Authority score ranges from one to 100, with higher scores corresponding to a greater ability to rank.
It has a complementary metric called Page Authority which assesses the same criteria for an individual page. We recommend installing the Mozbar extension for Google
Ahrefs offer a similar scoring called Domain Rating. These replace the much maligned and now defunct Page Rank ratings that Google used to rate all websites.
#3 Don't disregard relevant directories an placed links, but avoid black hat SEO techniques that could get your site penalized by Google
Free and premium directories are sometimes looked down by SEO professionals as the link is not earned. However there are some directories that have relevant visitors that  may be interested in your services.
Here's what Moz said in a blog post:
"When it comes down to it, you simply need to use good judgement with your link efforts. Is this a link someone would not be surprised to find on this site and in this location? Is the link from a site you could or would legitimately link to in a blog post? Would your site or page be a good resource for someone visiting a particularly directory? What about the rest of the content and links, do they seem legitimate? A little honest evaluation and some common sense is really all you need to avoid engaging in bad linking practices."
Therefore the relevance of the directory site to your business is the most important. If you sell furniture, then it is appropriate your website has a link from a good quality directory of furniture suppliers.
Some sites are too spammy (low quality and low authority) i.e. created purely to improve search engine rankings rather than provide good content or a good service.
#4 Push the message out about your content using social media, email marketing and direct approaches
Never stop hustling with your website. If you build a website that you are proud of with content that people will find useful then you need to make sure that you spread the message.
Use social media as this should generate good quality web traffic, but also make direct approaches using email , direct messages etc.
#5 Review your website data from Google Analytics, Search Console and manual searches
Use Google Search Console, Google Analytics to monitor your web traffic. You can use search console to review what backlinks have been detected by Google plus receive any relevant warnings or messages from Google.
You can also use the Disavow tool to tell Google to disregard spammy or irrelevant links that established websites can acquire over time.
There are more strategies but we think these are a good place to start. Please get in touch with us using our contact form.
Further reading
Brian Dean – https://backlinko.com/17-untapped-backlink-sources and https://backlinko.com/link-building
Neil Patel and Brian Dean – https://www.quicksprout.com/the-advanced-guide-to-link-building/
Moz on Link Building – https://moz.com/blog/category/link-building
Save
Save
Save
Save
Save
Save
Save
Save
Save
Save