We have in our hot little hands 20 Google AdWords vouchers where new accounts* spending £25 will get a £75 credit courtesy of Google.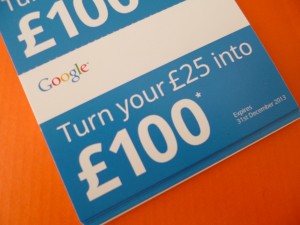 For the right business or marketing campaign, Google AdWords can be a very cost-effective way of advertising your business. You only pay when someone clicks on your advert and have control over the following:
[checklist type="eg. checked, dotted, arrowed"]
Monthly advertising budget
Location of people viewing your advertising, by region, town or radius
Time of day your Ad appears
Day of the week
Full tracking of your responses so you can assess Return On Investment
[/checklist]
* We charge a £50 fee to setup your account and your advertising. This offer expires on 31 December 2013. Please call Dinesh on 07941 686113 or submit our Contact form.