A recent survey by Richman – SEO training in London and CINT surveyed 500 small businesses 500 UK business owners (with fewer than 100 employees) to find out what they understand and feel about [tooltip title="The process of setting up and promoting your website so you improve its rank in search engine results pages for important target keywords/phrases for your business"]SEO (search engine optimisation)[/tooltip] and search marketing. The results make very interesting reading and indicate that most business owners accept something needs to be done but are unsure how to translate this into action.
When asked about the volume of leads from their website, only 17% of business owners are satisfied with the volume of sales/leads generated by their website, with 38% being dissatisfied. Most of us would like to squeeze a little more from our promotion so you might get similar negative responses about other forms of advertising.


Remember William Lever's quote about advertising:
"I know half my advertising isn't working, I just don't know which half."
When asked about SEO (search engine optimisation) the majority of business owners have some awareness but only 8% describe themselves as familiar with the principles.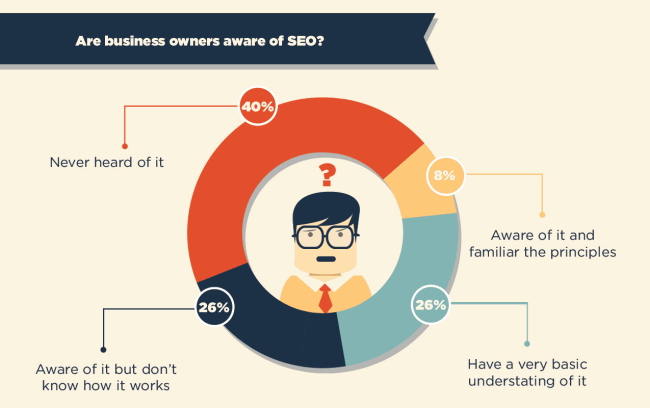 The vast majority of small business owners have never used SEO with only 20% using either in-house or external agencies. Contrasting this with whether they would consider using SEO, 58% responded that they would use it via in-house resources or external help.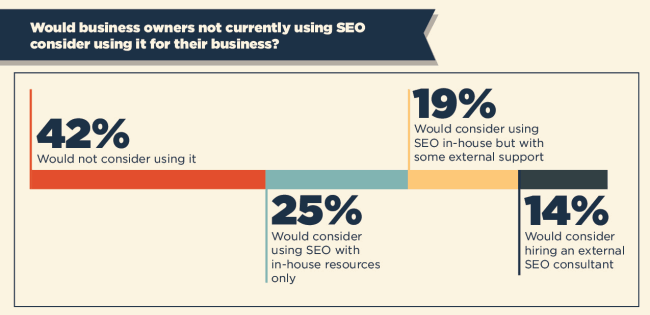 There still appears to be some uncertainty about whether and how to implement SEO. Most small businesses would benefit greatly from a properly setup and costed SEO project generating leads and increased sales. Contact Dinesh on 07941 686113 or submit our contact form for more information.
See the original article here: How do Small Business Owners Perceive SEO?