Some of the big hosting companies like Go Daddy, 1&1 Internet and Wix are pushing their website building services as cost-effective add-on to their hosting and domain services. The costs usually involve a regular fee which vary between £6 to £30 per month depending on what additional services you might need.This might initially compare quite favourably to a custom web design from an experienced web designer or company but you still need to consider the hidden costs and opportunity costs in the DIY solution for web design.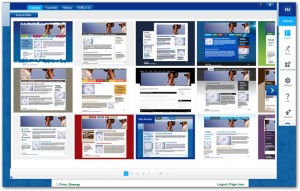 Opportunity costs of your time
Your time is precious and should be spent trying to grow your business. If you used a website builder you as the website owner would still need to spend time using the online tools to build, publish your website and maintain your website and this must be factored into the total cost of setting up a website as this is time away from your core business. For example it might take you a couple of days to initially setup a website, no matter how easy the software, and then maybe 4 or 5 hours a month maintaining and updating the website. Then there is also the issue of consistently branding your social media, making graphics fit to Facebook page template.
Web design and branding
Ensuring that branding and colour schemes are consistent and match your logo is difficult to achieve using a website builder. We often see examples of website builder produced sites where the colour scheme crucially doesn't quite match the company logo with very unprofessional results. Most website builder services offer very little flexibility in terms of colours and colour matching and this just looks bad and created a poor first impression.
Then there is also the issue of controlling layouts and spacings. Although a web design company might use commercial templates for WordPress websites, they will know enough about the system to get under the hood and adjust all the major design elements like spacings, colours etc so they match your branding and create the rightimpact for your business.
Impacts on Search Engine Optimisation
This is a very important area as it influences the quantity and quality of your website visitors. A good web design company will build SEO (search engine optimisation) into your website from the outset, helping you with keyword research to identify the most commonly used keywords and phrases and then structuring the website so it has the best chance of rising up the search engine results pages (SERPS).
These include the following:
Keyword research so your website copy matches what people are typing into Google, Bing and other search engines.
Optimising images, code and other factors so the website loads as quickly as possible.
Structuring the page headings, meta tags, internal links, page URLs to enhance SEO and avoid penalties.
Review the website data so the SEO measures can be adjusted to improve SEO.
Ensuring the website is mobile and tablet friendly.
We were once asked by a well established business to help improve the Search Engine Optimisation of their website which had been produced using a well known website builder. We were very disappointed with how little scope there was for taking what were very basic actions to improve SEO such as friendly URLs for pages, tagging and page speed improvements.
We were very disappointed with how little scope there was for taking what were very basic actions to improve SEO such as friendly URLs for pages, tagging and page speed improvements.
As a company that produces custom websites (although often using WordPress and customises commercial templates) we are clearly biased but we consider the commonly available website builder a poor choice financially and will not benefit your business longer term.