Used properly Google AdWords provides companies with highly targeted, cost controlled advertising that can deliver excellent results. It's Google's main source of revenue and can be a powerful promotional tool when combined with building an excellent quality website and ethical search engine optimisation.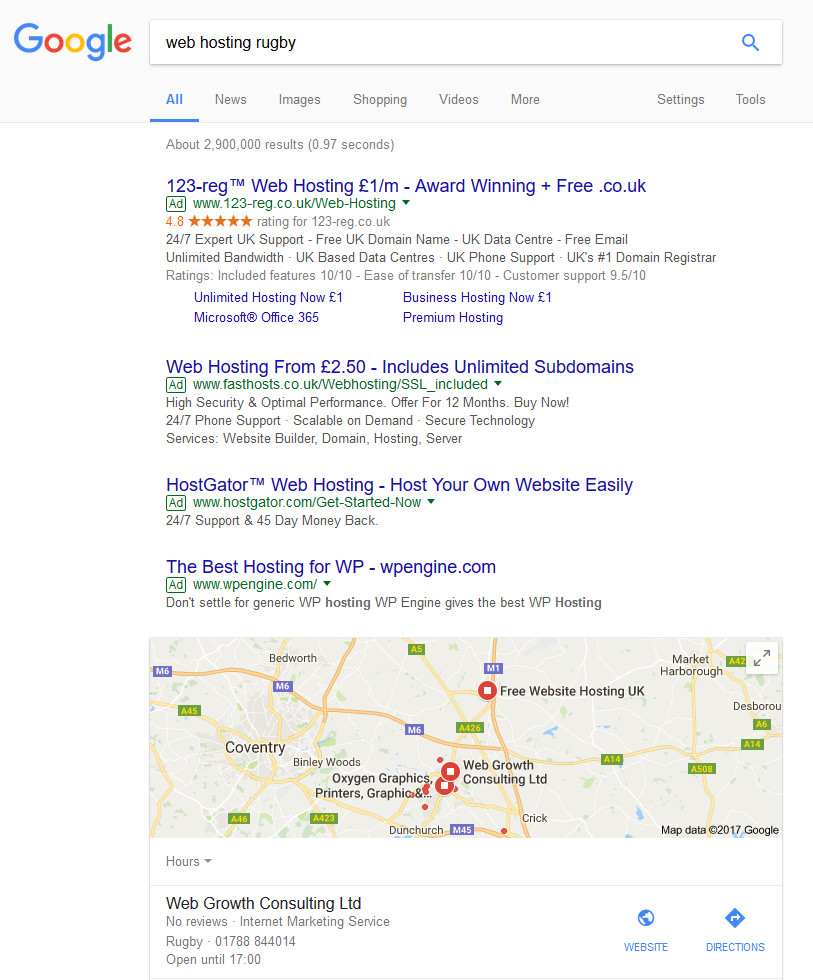 Whenever anyone uses a search engine you will see the paid ads at the top of the page. Google has in recent times increased the number of ads from 3 to 4 and, where relevant, added Google Places results next with the organic results straight after. Sometimes Google may also display Google shopping results where it detects that someone is searching for a product.
The main plus in the type of advertising is the Pay Per Click model; unlike conventional display advertising you only pay when someone clicks through to your website or landing page.
Ads shown on the Google Display Network
Google also gives you the option of displaying your ad on what it calls the Google display network. These are popular websites that allocate parts of their page to show Google Ads.
When you setup your Google AdWords you are presented with the option of the Search Network only, Search network with display or Display network only.
If you look to the right on this page you should an Ad. What shows here is based on relevance to the content of this website or sometimes the contents of a website you have visited recently. This is called remarketing and will be configured by the website owner.
For example, a website that sells toasters might create a "toaster" tag for remarketing.
Visitors who spend time on the page that is "toaster" tagged will have a cookie placed in their browser so that they then see toaster-targeted ads across the vast number of Google partner sites in the Google Display Network.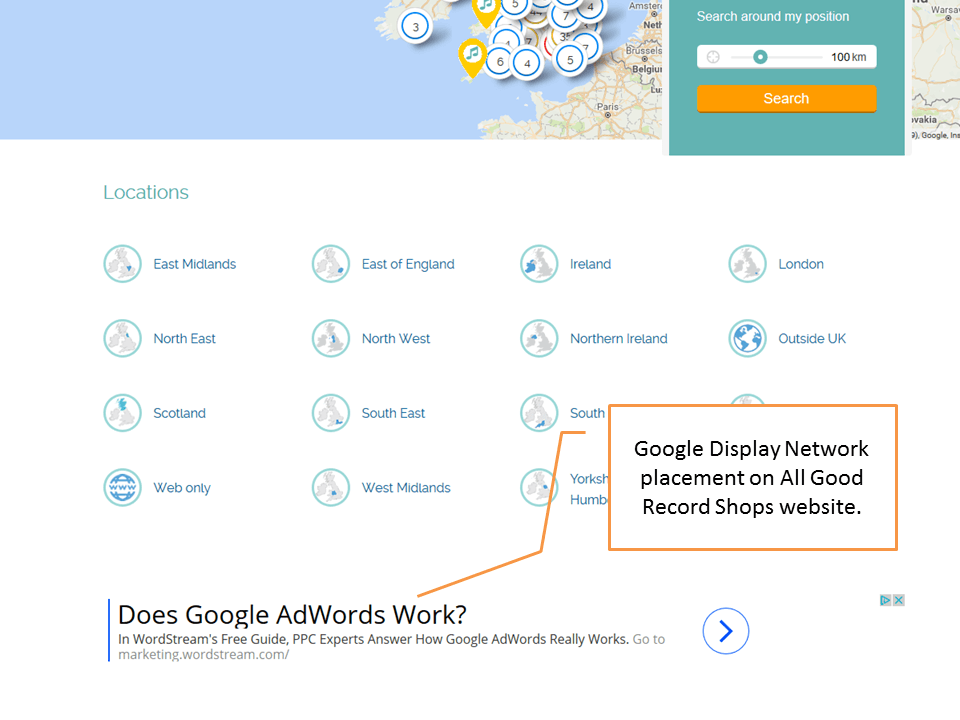 How to exclude specific websites
That means that your Ad could, in theory, display on any website, video or app that Google deems relevant based on their algorithms.
Most of the time Google does a pretty good job at placing adverts but there will be situations where you review your data and discover websites that you don't want your ad to display:
Irrelevance to your product offering or services.
Website target demographic or location of users is not relevant.
The website content aren't appropriate to your brand.
The website isn't appropriate to the ethical standards of your company.
The placement is performing poorly with a high bounce rate or low conversions.
The British satirical magazine Private Eye has already noticed this issue and with an occasional column called Malgorithms: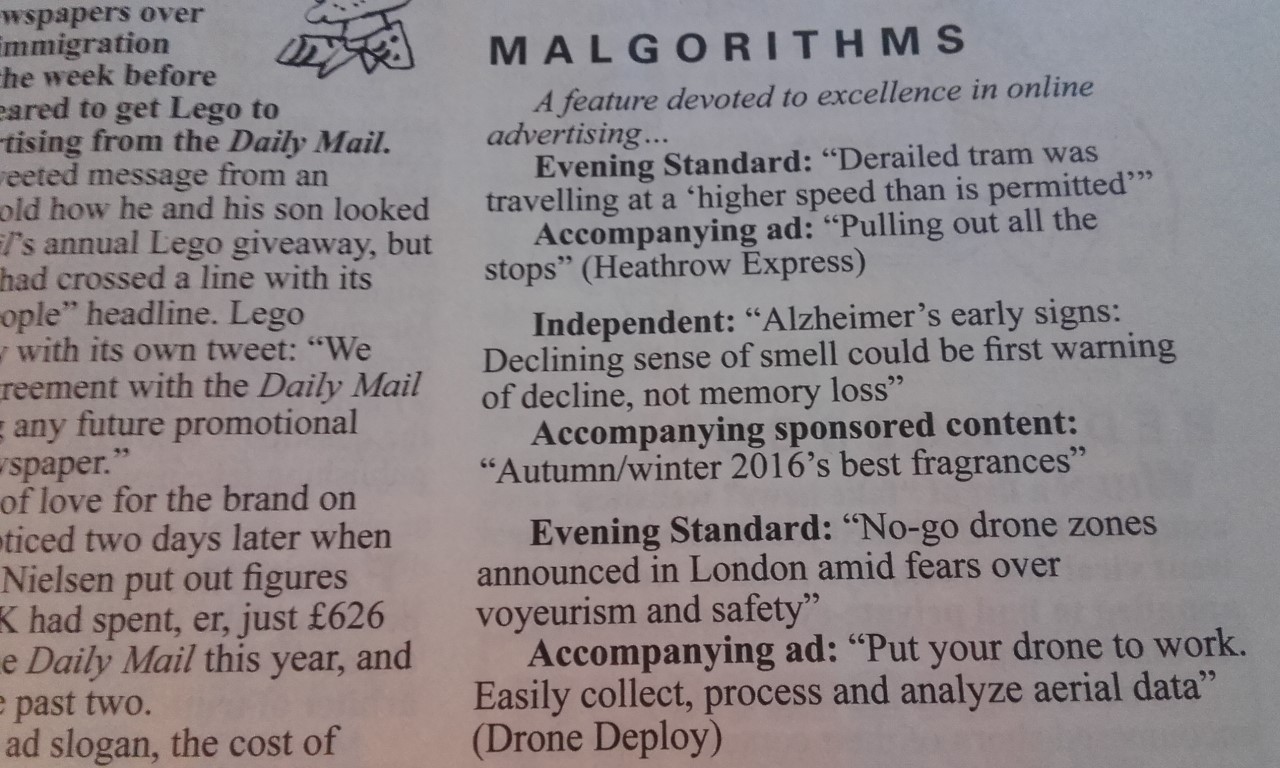 Here are some further examples:
Guardian headline: "'All lives matter' rally was always racist—and this weekend's Trump rally proved it"
The ad: "Brilliant cleaning for whites and colours" by Daz
Guardian headline: "Student 'driven from campus' after speaking out against rape seminar"
The ad: "How to make a winning first impression, sponsored by HSBC"
Yahoo News headline: "Business drivers risking safety by not taking breaks"
The ad: "Brilliant funeral insurance sweeping the UK"
Instructions for excluding websites from Google display network campaigns
You can exclude placements from specific ad groups and campaigns from the Display Network tab.
Go to your Display Network tab and click on + Targeting, which is located above the graph.
Select an ad group.
Click on either the "Add ad group exclusions" or "Add campaign exclusions" drop-down menu and select "Placements".
Type a placement in the box, entering just one placement per line. You can exclude up to 10,000 placements per campaign. Note: You don't need to exclude a placement if it's located outside the target region for your ad. No matter where a website is located, your ad will be shown only to visitors located in the regions that you've targeted.
Click on Close then Save.
There are different types of URLs for different types of websites. From mobile apps to specific product pages, each type of property has a specific address format.
See the guidance from Google for more information on how to format the URLs when you enter Placements – About "Search Network with Display Select"
Please get in touch if you need any help with web design, web hosting and domains, search engine optimisation and digital marketing.
Further reading
About "Search Network with Display Select"