Here we summarise the most important SEO trends (search engine optimization) for 2016, to help you boost the position of your website on SERPS (search engine results pages).
Google's real time Penguin algorithm
The Google algorithm will be updated in early 2016 so it reacts in real-time to sites that attempt to spam or clean up previous problems.
The algorithm was first introduced in 2012 to combat black hat link building tactics, however it received much criticism due to the large time gaps between updates, which meant that sites that had been penalised but had subsequently cleaned-up their acts had to wait many months before experiencing any kind of recovery.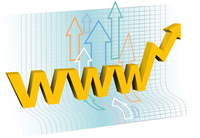 The reason why the SEO community has so eagerly awaited the forthcoming update is because it will see the Penguin algorithm transition into becoming 'real-time'. That means that as soon as Google discovers that a link is removed or disavowed, the Penguin algorithm will process it in real time, and you would be able to recover from a Penguin penalty incredibly quickly. However, you could end up with a Penguin penalty just as quickly.
Brand mentions and citations will become as powerful as links
A recent Patent submission by Google indicates that Google is differentiating between "express links" and "implied links". Express links, what we traditionally and currently think of as links, are URLs that lead back to a webpage (for instance, http://www.google.com). Implied links, however, can include referencing or mentioning a brand or website without actually linking to the site. Due to the widespread misuse and abuse of link building (think link building schemes and negative SEO), Google appears to placing more emphasis on brand mentions and citations, which are less likely and less easy to be manipulated for the purpose of achieving higher search rankings.
Local search and voice search will become more important
Local search is getting more targeted and as such businesses need to be more vocal in what they are doing. Google Places/Businesses now only shows three results instead of seven in the first instance, but a click through reveals a list of around 20 results. Local businesses or large scale companies with local depots or shops should put schema tagging and local listings as a top priority to capture a local market which will be receiving increasingly relevant results in 2016.
Content scraping will be penalised
Google is continuously finding ways of identifying and boosting websites publishing original quality content so automated content scraped and displayed automatically from other websites will be penalised and downgraded.
The rise of interactive content
Content has been king for a few years, but it seems interactive content will look to steal the crown in 2016. Infographics, athough popular with content authors have never really taken off among users. Therefore interactive content, similar (but more advanced) to online quizzes, does encourage user engagement and interaction with a brand.
2016 is likely to see this grow further with mobile and app use, as the smartphone is the perfect tool for user interaction.
Page tags and clear page structure
In 2015, mobile surpassed desktop for online search use for the first time in history. This means that page structure is important with content being presented with clear heading tags and body text so users can locate relevant content easily and quickly.
Natural language and AI search will become more important
On both desktop and mobile, we expect to see natural language and machine-learning-driven search continue to grow in prominence. As a result, we expect to see marketers using split-testing more and more for SEO purposes as ranking factors continue to diversify. This also means that content becomes more natural without writing to pack out content with specific keywords or phrases.
Search engine rankings will depend on building relationships
High search rankings can no longer be achieved by isolated webmasters who focus on technical compliance; rather, there must be a shift toward relational strategies such as blogger outreach campaigns, building relationships with brand advocates, reaching out to influencers and engaging on social media.
The new watchword 'Usefulness'
In a single word, "usefulness." The search engines have been focused on this for a while now, the concept of getting closer to the root of what a searcher means, intends or desires.
"Relevancy" was the watchword for the last few years. The problem is that relevancy is too narrow, too easily met today and doesn't dive into the intent behind a query. If you can understand the intent, you're orders of magnitude closer to solving for whatever the searcher actually needs in the big picture.
Should the result for a specific moment be a web page?
Or would a video result or local map result better?
Would a simple image be useful?
Should it be a short and concise result, or does it need a multi-page PDF document?
Further reading
The Top 7 SEO Trends That Will Dominate 2015
SEO Trends 2016: 44 Experts On The Future Of Organic Search Success