Google announced in May 2019 their support for FAQ and How-to structured data on Google Search and the Google Assistant, including new reports in Search Console to monitor how your site is performing.
They published a useful blog article explaining in more detail here: New in structured data: FAQ and How-to
It's very well written and worth reading, but we summarise the main take-aways in the blog post. But first where do FAQs and structured data appear in search results?
What is structured data and where does it feature
As well as being a useful part of your website for visitors, an FAQ has the chance of appearing high up in the search engine results when someone asks a question or how to do something.
For example, type how to tie a bow tie into Google and you will often get a so-called Featured snippet at the top of the page that answers the question quickly, some links to videos and a 'People also ask box'.
It can also feature in voice search through Google Assistant.

This can generate traffic and get your website high up in search results if your content is featured.
Creating the content should be relatively easy as it's common questions that you should be able to answer easily. What then matters is how the content is structured.
Google do provide this disclaimer in search console:
Google does not guarantee that your structured data will show up in search results, even if your page is marked up correctly. To determine whether a result gets a rich treatment, Google algorithms use a variety of additional signals to make sure that users see rich results when their content best serves the user's needs.
FAQs
An FAQ page provides a list of frequently asked questions and answers on a particular topic.
For example, an FAQ page on an e-commerce website might provide answers on shipping destinations, purchase options, return policies, and refund processes.
By using FAQPage structured data, you can make your content eligible to display these questions and answers to display directly on Google Search and the Assistant, helping users to quickly find answers to frequently asked questions.
For technical details see these pages: https://schema.org/FAQPage and Google's own developer guide:  FAQ developer documentation
WordPress and FAQs
If you use WordPress then a combination of the popular Yoast plugin and Gutenberg text block editor can add the content in the right format.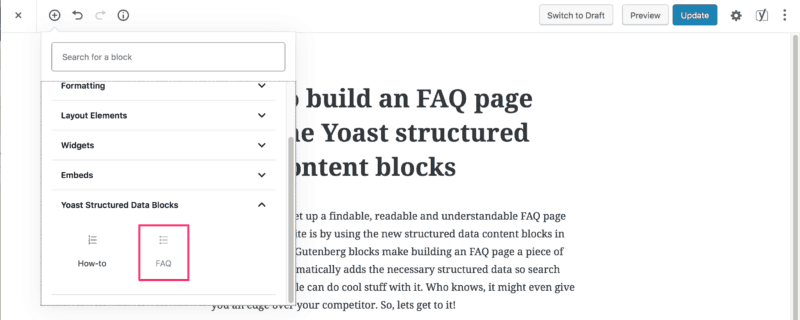 Yoast has a Gutenberg block specifically for FAQ schema. Simply add this block to your page. Add your list of frequently asked questions, along with the answers. You will then have a page that is not only useful to website visitors but also coud be featured prominently in search results.
There's also a Structured data plugin that does a similar job: https://wordpress.org/plugins/structured-content/
What questions should be included
Off the top of your head you should be able to think of four or five questions that crop up often. If you need further inspiration try tools like AnswerThePublic and Quora.
Once you've added relevant, helpful questions and answers to your blog post, you can validate your JSON code using the Structured Data Testing Tool from Google. This tool will show you ALL of the schema data on that particular page and whether or not it's been setup correctly.
Once you've published your page, you can also preview what your rich snippet might look like in Google's results using this tool.
If you build it, they will not necessarily come but at least you are providing some useful answers for your visitors and improve your chances of getting featured prominently on Google.
Get in touch with Dinesh on 07941 686113 if you need help on web design, web hosting, SEO services, domain names or email marketing.
See our own new FAQ page here: https://www.webgrowth.co.uk/faqs/
Further reading