This blog post covers when and why you should use a Content Management System such as WordPress for your website. When you have a business with products or services to promote, you need a website and keep it up to date.
For those unsure of the term, here's a good definition of Content Management System:
A content management system, or CMS, is software that allows you to create, edit, and publish content to a website or blog without advanced coding knowledge.
Having social media sites such as Facebook, Twitter (My Space anyone?) is indeed important. However they do come and go and having your own website and domain name is as important as a physical address and phone number.
Without it you will look unprofessional and untrustworthy and people may not be willing to do business with you. So if you're convinced you that you should have a website what are the options?
Options for producing your website pages
The first choice you need to make is between type of system to create your web pages.
There are three main options:
Use a Content Management System such as WordPress, Joomla or Drupal which enables non-specialists to update and manage the website content.
Use a static website with HTML pages that are generated from scratch or use a framework such as Bootstrap to make delivering functionality
Use a website builder such as Wix or 1&1 Ionos to create your own website.

Some problems with static websites
Using a static website is ok for very small businesses or where your products and services do not change much over time.
If you do need to update the contents then you are likely to need the services of a web developer or have staff trained in editing HTML, CSS or other code plus access to the web hosting. It is perfectly possible, but can end up costing more in the long run through costs for web development or opportunity costs in not keeping your website content fresh – Google loves factually accurate, helpful websites that are kept up to date. (See our earlier blog post on Google E-A-T).
In some cases it's fine. We have setup static HTML websites using the bootstrap framework which look great, load quickly (they are usually slightly faster than CMS websites) and are responsive. We do some editing for clients when required but obviously have to charge.
Some problems with website builders
A website builder such as Wix or 1&1 Ionos is a simplified version of a CMS that enables non-specialists to setup and update websites. This often involves selecting from pre-existing layouts and customising with your own content, colour scheme and logo.
This can work for some customers but can be a false economy when you consider the monthly cost and time spent by staff in creating the website. (see 4 problems with DIY website builders)
It also means that your website maybe slow and generic looking.
Why use a Content Management System?
Some websites need to be updated on a regular basis with additional pages, additional sections, edits to existing content, new menu items.
A specialist example would be e-commerce website where you might be updating and adding products, adjusting prices and adding new information about your products and services.
Once a website has been setup using a CMS such as WordPress, your staff trained in how to update it you can be self-sufficient.
Here are some examples of what a non-specialist can do with a content management system:
Update existing content- text, images, page layouts.
Add new content.
Edit and add new menu items.
Update blog posts / news articles.
Share content on social media.
There will be times when you need specialist help to fix issues, add new features or update the version of the plugins and CMS version (since I started using it WordPress has gone from version 3 to 5.1 at the time of writing.)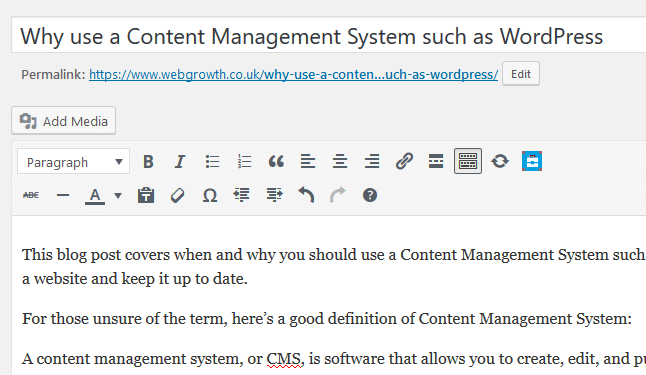 We almost exclusively use WordPress as a CMS for the following reasons:
It's relatively easy to learn.
It's well-supported.
It's easy to add new features.
It's good for SEO.
Get in touch with Dinesh on 07941 686113 if you need help on web design, web hosting, SEO services, domain names or email marketing.
Further reading